Home > Adults' Programmes > Hancock
Hancock's Half Hour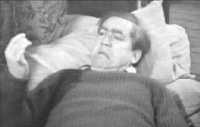 "Hancock's Half Hour" effectively pioneered the genre of situation comedy and introduced the characters of, amongst others, Anthony Aloysius St John Hancock, Sid James and Miss Pugh (not to mention Mrs Crevatte played by Patricia Hayes). Hugh Lloyd was also one of the regular cast.
Tony lived at 23 Railway Cuttings, East Cheam and pondered and dreamed of rising above his humble origins with sceptical sparring partner Sid. Hancock's Half Hour had transferred from radio where Hancock's inimitable performance and Galton and Simpson's inspired scripts had combined to produce classic comedy.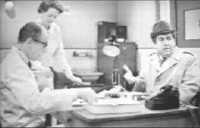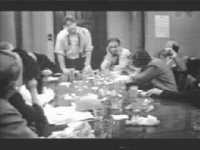 The bitter-sweet humour lay in acute observations of life's petty frustrations ('The Missing Page' when Hancock reaches the final page of a thriller, only to find it has been torn out), and in Hancock's bitter, paranoid rantings and pompous attempts to impress which always fell flat as he unintentionally revealed his ignorance (in 'Twelve Angry Men' Hancock berates the jurors, 'Does Magna Carta mean nothing to you? Did she die in vain?'). Yet at the same time Hancock's down-at-heel appearance and hang-dog features made him a lovable loser and over 10 million viewers tuned in regularly.
Other guest appearances were made by Irene Handl, Valentine Dyall, Hermione Baddeley, Warren Mitchell, Kenneth Williams , Richard Wattis and Hattie Jacques.
| | |
| --- | --- |
| The scene above is from 'The Missing Page' | |
Below is a list of the BBC Television Shows.
Those marked with an asterisk exist.

(July 1956 - September 1956)
06-07-56 The First TV Show
20-07-56 The Artist
03-08-56 The Dancer
17-08-56 The Bequest
31-08-56 The Radio Show
14-09-56 The Chef That Died Of Shame

Seco Series (April 1957 - June 1957)
01-04-57 The Alpine Holiday* Watch this episode
15-04-57 Lady Chatterley's Revenge
29-04-57 The Russian Prince
13-05-57 The New Neighbour
27-05-57 The Pianist
10-06-57 The Auction

Third Series (September 1957 - December 1957)
30-09-57 The Continental Holiday
07-10-57 The Great Detective
14-10-57 The Amusement Arcade
21-10-57 A Holiday In Scotland
28-10-57 Air Steward Hancock, The Last Of The Many* Watch this episode
04-11-57 The Regimental Reunion
11-11-57 The Adopted Family
25-11-57 The Elocution Teacher
02-12-57 The Lawyer: The Crown Vs James, S: Hancock QC Defending* Watch this episode
09-12-57 How To Win Money And Influence People* Watch this episode
16-12-57 There's An Airfield At The Bottom Of My Garden* Watch this episode
23-12-57 Hancock's 43 Minutes - The East Cheam Repertory Company* Watch this episode

Fourth Series (December 1958 - March 1959)
26-12-58 Ericson The Viking* Watch this episode
02-01-59 Underpaid! (or Grandad's SOS)
09-01-59 The Set That Failed* Watch this episode
16-01-59 The New Nose* Watch this episode
23-01-59 The Flight Of The Red Shadow
30-01-59 The Horror Serial
06-02-59 The Italian Maid
13-02-59 Matrimony - Almost
20-02-59 The Beauty Contest
06-03-59 The Wrong Man
13-03-59 The Oak Tree* Watch this episode
20-03-59 The Knighthood* Watch this episode
27-03-59 The Servants

Fifth Series (September 1959 - November 1959)
25-09-59 The Economy Drive* Watch this episode
02-10-59 The Two Murderers* Watch this episode
09-10-59 Lord Byron Lived Here* Watch this episode
16-10-59 Twelve Angry Men* Watch this episode
23-10-59 The Train Journey* Watch this episode
30-10-59 The Cruise*
06-11-59 The Big Night*
13-11-59 The Tycoon*
20-11-59 Spanish Interlude*
27-11-59 Football Pools*

Sixth Series (March 1960 - May 1960)
04-03-60 The Cold*
11-03-60 The Missing Page *
18-03-60 The Emigrant*
25-03-60 The Reunion Party*
01-04-60 Sid In Love*
08-04-60 The Baby Sitters*
15-04-60 The Ladies' Man*
22-04-60 The Photographer*
29-04-60 The East Cheam Centenary*
06-05-60 The Poison Pen Letters*

Seventh Series (May 1961 - June 1961)
26-05-61 The Bedsitter (Hancock Alone)*
02-06-61 The Bowmans*
09-06-61 The Radio Ham (Mayday)*
16-06-61 The Lift (Going Down)*
23-06-61 The Blood Donor*
30-06-61 The Succession - Son And Heir*
Visit the Tony Hancock Archives website

If you have any comments or further information of interest, please e-mail webmaster@whirligig-tv.co.uk