.UK Light Radio productions by André Leon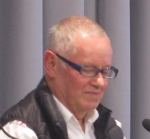 André Leon
We are pleased to reproduce a selection of recordings on LONDON LIGHT
MUSIC ONLINE, with due acknowledgement.
---
"André Leon's Christmas Radio Juke Box"
André Leon introduces seasonal sounds as you join him on a musical sleigh ride with Santa's Juke Box on board!
Expect to hear Frank Sinatra and Elvis Presley amongst A Star Line Up!
---
"Matinee at the Movies" presented by André Leon
"Classic Locations - Vienna 2013" presented by André Leon
André Leon visits the city of Vienna on a musical journey
and introduces the sights ans sounds during Autumn, Christmas and New Year
"Vienna Bon Bons" presented by André Leon
Legendary presenter Paul Hollingdale, best known as the first voice on BBC Radio Two, introduces Vienna Bon Bons.
A special UKLightRadio programme in which he features music emanating from a city which has given the world much musical pleasure.
Paul was also founder of Blue Danube Radio and Vienna International Radio.
Prior to joining Radio Two, Paul presented on the BBC Light Programme.
---
"THE CLASSIC COLLECTION" presented by André Leon
1. London
André delves into the UKLightRadio Music Library for a selection of Classic Classics
2. Prague
Libor Zavodny features Music from the Classic Masters with a Czech flavour in a novel bi-lingual presentation. Compiled and produced during a visit to the city by André Leon
3. Johannesburg
South African pioneer Pop Radio Executive and broadcaster Chris Turner offers a rare opportunity to hear his classical selection with a difference.
You'll hear African Baroque, George Gershwin's Summertime sung in Zulu and "David Grusin meets Bach in Africa" as interpreted by the Soweto String Quartet. And there are other surprises as well!
4. Margaret Howard's Selection
Award Winning Broadcaster on both BBC and Classic Fm, Margaret Howard, selected a handful of favourite Composers for UKLightRadio's special series.
---
"Light Fantastic!"
Anthony and Gaynor Sadler are Award Winning composers and songwriters for TV and Advertising Campaigns. Famous also for branding BBC 1 and BBC 2 logo music which is available as Production Library Music. "Light Fantastic!" is their programme to keep you "In the Mood for Mood Music" selected and produced for UKLightRadio by André Leon.
"The Light Switch" presented by Brian Kay
Brian Reynolds presents "Music While You Work"
---
.