CD REVIEW – RESPIGHI
Riccardo Chailly - Filarmonica Della Scala
Decca 00028948504152 (73:21)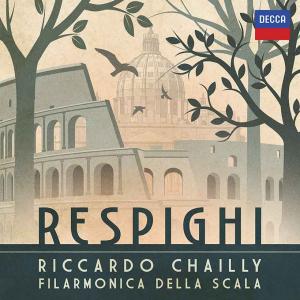 Having reviewed three previous albums by this orchestra and conductor – 'Overtures, Preludes & Intermezzi', 'The Fellini Album' and 'Cherubini Miniatures' – I have become something of a fan and welcome this new release; even although it does come into competition with John Wilson's recent highly acclaimed versions of the two main works: Fountains of Rome and Pines of Rome (also previously reviewed here).
That disc has splendidly smooth sound but with rather restrained climaxes and little spotlighting of passages or players – very English, perhaps? So, I missed the anticipated excitement that this latest very Italian version has a-plenty.
Ottorino Respighi (1879-1936) is Italy's most popular orchestral composer of the 20th century. His 'Roman Trilogy' is a showpiece for orchestra and a Maestro Chailly specialty. He is one of the world's best conductors and on this album his admirable opera house band respond to his direction con brio. The concertmaster, trumpet, clarinet and oboe principals, and the organist are all given well-deserved acknowledgement.
There is 13 minutes more music than on JW's Chandos disc (which includes Roman Festivals) with 34 minutes of seven attractive tracks of lesser known works. These include the early Aria for Strings, Leggenda for violin and orchestra, and Di Sera featuring twin oboes. Respighi's interest in Italian music of earlier centuries led to a number of works, of which the penultimate Ancient Airs and Dances, Suite No.1 – the last work he wrote for strings – is a tuneful example.
If you want the two symphonic poems it is very much a personal choice which album to choose. The accompanying works on the discs could be the deciding factor. If your budget allows, buy them both. Or if you have already bought the JW, why not download the Chailly? The latter is now my album of choice for Fountains and Pines.
© Peter Burt 2020