CD REVIEW – CHERUBINI DISCOVERIES
Filarmonica Della Scala / Riccardo Chailly
Decca 4831591 (74:22)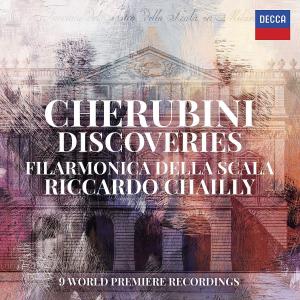 Celebrated Italian conductor, Riccardo Chailly – recently named Diapson D'Or magazine 'Artist of the Year' – and his Milanese opera house orchestra have already twice been enthusiastically reviewed on this website: firstly, when he became musical director in 2017 (Decca 4831148) and then for their lauded 2019 Fellini album (Decca 4832869). In this latest release they turn their attention to Luigi Cherubini (1760-1842), who Beethoven regarded as the greatest of his contemporaries.
The Florence-born French composer (named Marie Louis Charles Zénobi Salvador Cherubini) was best known for his operas and sacred music, but today is rarely heard. Mendelssohn praised his music for being "free, bright and bold." So, here are spirited accounts of his Overture in G minor and sole Symphony (in D Major) which in 1815, together with a composition for chorus and orchestra, were commissioned by the Royal Philharmonic Society, who brought him to conduct them in London.
Apart from the last track, his March Funèbre, the second half of the disc is the album's raison d'être: the world premiere recordings of nine occasional marches written for various public/social events. Scored for wind ensemble and percussion, there is music for a king's coronation, an heroic general's funeral, a homage to an extremely influential Viennese figure, the appointment of a new department prefect, a tribute to a family the composer had stayed with while recuperating, and a piece connected to his receiving the Legion of Honour. The composer's writing right across the disc is characterized by his typical use of alternating contrasting moods.
Why Decca have waited almost five years to release these recordings is something of a mystery; although I suppose it is appropriate to have the album in the 250th year since the birth of Cherubini's chief admirer.
Readers who have recently enjoyed Auber and/or Cimarosa should also savour this release.
© Peter Burt 2020