CD REVIEW – AUBER : OVERTURES
Czech Chamber Philharmonic Orchestra Pardubice
Dario Salvi
Naxos 8.574005 (64:50)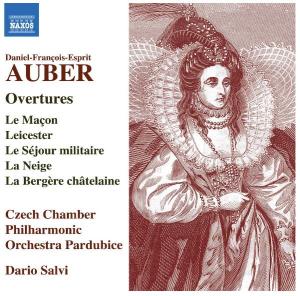 One of the most popular and prolific of his time, the French composer Daniel-François-Esprit Auber (1782-1871) was prominent in the 19th-century cultivation of opera containing spoken as well as sung passages (comic opera or opéra-comique).
Apparently, M. Auber was an affable character whose music reflected his personality and Parisian elegance. He could certainly write and keep up a sustained melody and, although not much heard nowadays, back then his overtures rivalled in popularity those of Rossini and von Suppé.
This budget release – the first of a project to record all his overtures – is unique in that 14 of the 16 tracks are World Premiere Recordings. Pieces not listed on the front of the booklet are from Le Timide, ou Le Nouveau Séducteur; Emma, ou La Promesse imprudente and Le Testament et les Billets doux. The story of Leicester, ou Le Château de Kenilworth is evidently based on Sir Walter Scott's historical novel about Queen Elizabeth's state visit to her special friend Robert Dudley at Kenilworth Castle in 1575.
Dario Salvi is a Scottish-Italian conductor and researcher specialising in the restoration and performance of rare works. From the city of Pardubice, the orchestra is a leading one in Czechia (seemingly the new name for the Czech Republic). Most of Auber's scores are for piccolo, woodwinds in pairs, four horns, two trumpets, trombones, timpani, snare drum, triangle, bass drum, cymbals, harp and strings.
Four pages of excellent liner notes, albeit in the usual Naxos small print, by the music historian Robert Ignatius Letellier deserve mention.
Providing easy-to-listen-to sound at an attractive price, this release should appeal to anyone who appreciates stylish music making.
And, despite its European connections (even the CD is manufactured in Germany), you will still be allowed to enjoy it post-Brexit!
(Readers will also find my 2016 review of another attractive Auber album, although with not such good sound, on Naxos (8.573553). The albums have no items in common).
© Peter Burt 2020