CD REVIEW – AUBER Overtures 1
Orchestre de Cannes – conductor: Wolfgang Dörner
Naxos 8.573553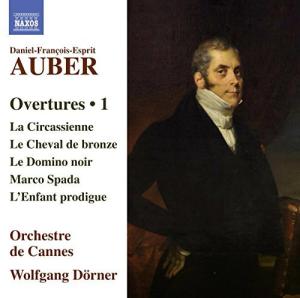 Daniel-François-Esprit Auber – a name to be conjured with, but not nowadays! Even a classical music presenter recently said on air that he had never heard of him.
In 19th-century France he was renowned for his operas and was the leading composer of operas comiques. He became director of the Paris Conservatoire in 1842 and remained there until its closure in 1870. He died in 1871 during the Siege of Paris at the, then, great age of 89. He is reputed to have had an "amiable personality and Parisian elegance" with his name being a byword for taste and the focus of universal affection.
Even in the lifetimes of many reading this, these easy on the ear pieces would have been meat and drink to bandstand ensembles. Then somehow Auber went off the musical radar.
The album has eight overtures from interesting sounding works like The Girl from the Caucasus, The Bronze Horse, The Black Domino, The Crown Diamonds, and the The Prodigal Son. Dr Dorner and his orchestra made an excellent job of Lanner's 'Viennese Dances' in their last recording (Naxos 8.73552) and they are obviously at home with the material here.
I have enjoyed listening to this at a sitting, although I think the recording is a bit "heavy". It is nice that Auber's music, if not his operas, is being rediscovered and the release is still recommendable at the new Naxos price of £6.99. I look forward to more of the same.
Peter Burt
August 2016
..
.
.
.