The Bandstand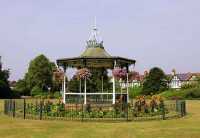 The bandstand is significant not just for the elegance of the structure and its setting, but also because it has been the scene of many famous musical events.
Perhaps most famous of all, in August 1969 David Bowie organised and played at the Beckenham Free Festival in the park, joined by a number of bands including the Strawbs. A link to the event is:
http://www.beckenhamhistory.co.uk/davidbowie-beckenham-free-festival
The bandstand was the product of McCallum & Hope Ltd of Glasgow from 1880 until 1921, an astonishing enterprise supplying all aspects of architectural ironwork. Many of the original designs of the foundry continue to be manufactured.
A condition survey has revealed that the bandstand is in reasonable condition but in need of repair and replacement of certain elements, especially the canopy, which has later addition roofing felt in poor condition. The coronet is a mixture of cast and wrought iron and is extensively corroded and in need of conservation repair. Repairs to rotten roof timberwork, roof coverings and ironwork with consequent redecoration are therefore an urgent priority, and this is a key priority of The Friends in their fundraising objectives.

For the latest information about this project including the passing of the planning consent, please see the dedicated Bandstand project page of our site.
Please click here to pledge to the Bowie Bandstand Restoration Appeal