1982
GREAT EXPECTATIONS…BBCTV…
I'm off down to the mud flats of the West Country on another version of this Dickens story.
Again I'm playing an old time copper and there are another dozen of us Supporting Artists to help out with the filming for a few days.
On the first early morning start we all sit down to breakfast in the hotel.
The Wardrobe dept insist that the coppers all have large napkins placed on their laps and fronts to keep the pure white and red uniforms in pristeen condition for the filming.. (It's a bit like we don't know how to eat breakfast without making a mess down ourselves)..
After breakfast it's onto the coach for the two mile drive to the mud flats and the dialogue goes ''Sit straight boys, don't crease those trousers, don't smoke on the coach in case you get ash over yourselves, hang your jackets up etc''
(Now here's the rub)
John (The Grunter) Cannon and I are to be in the first shot which consists of getting Magwitch (Stratford Johns) out of the water and mud in the tidal river… (I've sure I've done this before)
Terry Plumber is stunt double for Mr Johns and weighs in at about eighteen stone (dry).
On the word ''ACTION'' Aitch and the Grunter are into the mud and water and wade out to get Magwitch and help him to shore..
When we reach Terry and try to lift him we start to sink into the mud.(napkins and creased trousers come to mind)
My large police top hat falls off and is heading for the coast as we struggle to get Terry to the bank..
When we are near to the bank Terry gets substituted for Stratford Johns for the close ups. He has to be muddied up.
Because it takes a couple of hours to do the dialogue scenes (although on screen it's two minutes) the Grunter and I keep drying out and are asked before every take ''if you wouldn't mind getting back into the mud for continuity sake''.
We finish off all the scenes by the river bank, then the three of us are whisked back to the hotel to get some clean dry clothes.
The coach driver doesn't stop tut tutting all the way back about the mud we're spreading in his nice clean coach. (He should have put us on the roof rack)
The Grunter and I were cold and wet and the first thing the jobs worth assistant wardrobe person said was (flapping) ''Where's your hat, where's your hat''?
I looked at the clock on the wall, turned to him and said… ''In the English f***ing Channel by now…
The rest of the shoot went to plan and I can laugh about it now.
(I still think David Lean's 1946 version of this story can't be topped)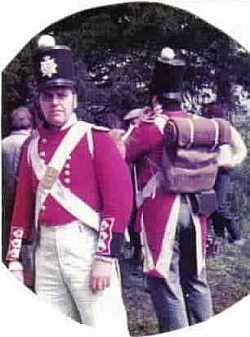 This was before the mud larks....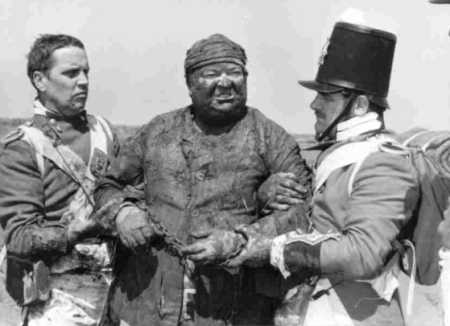 What happened to the "Don't get your uniform dirty rule"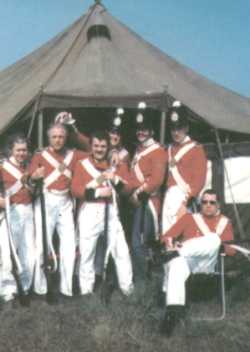 THE GOOD OLD CLEAN BOYS……
VICTOR/VICTORIA…Director Blake Edwards…Pinewood Studios…
Cast Inc…Julie Andrews…James Garner…Robert Preston…
Only a couple of days on this but I had worked with Blake Edwards before on a couple of Pink Panthers.. (Once standing in for Dudley)
All I had to do was sit in between a couple of lovely ladies throughout the shoot. (It beats dragging Terry Plumber out of the mud)
In another couple of years I get to work with James Garner's daughter, Gigi.
Hello Gigi, do you remember dopey Harry on C.B.T.V. Thames TV… Best wishes…
WHO DARES WINS…Director Don Sharp…
Cast Inc…Lewis Collins…Richard Widmark…Judy Davis…
Another good film for the Supporting Artists with plenty of working days..
I managed to get a week filming at an Islington church (two minutes from home) and another week at Pinewood dressed as a policeman. I also did some public liaison work while on locations.
I didn't own a car at this period so had to rely on mates giving me a Montgomery Clift (lift) to work and back. (thanks Baz and Bill the Body and Big Ben).
At Pinewood one day I found myself next to Richard Widmark and remembered what he had called my old Bedford van ten years before. ''That thing'' he called it.
I was going to give him a pull but I thought no, he's a nice man…
THE WALL…Director Alan Parker…
I remember working for one night down the East End of London on a big riot scene.
Thirty of us dressed as riot police facing a hoard of rioters…
Bricks, sticks ,bottles etc all being thrown at us..
The good thing this time we all had riot shields and visors to protect ourselves and we told the rioters that this was only acting.
One rioter who was being a pain and kept coming for me said ''Make it real man''. So on the next take as he came for me my shield decided to turn so he caught his head on the edge of it instead of the flat surface and as he was being carried off I said to him ''Is that real enough'' (Funny old game)
THE MISSIONARY…Director Richard Loncraine…
Cast Inc…Michael Palin…Maggie Smith…Trevor Howard…
We are filming down at Hoxton Market and our base is a pub I used to sing in twenty years before. It's only two minutes from my old swimming pool. (The canal).
The 1st A.D. told me he was giving me a line to say to Mr Palin but it wouldn't be 'til late afternoon and would I like to relax at the base. (Is he kidding me)
I have a walk up and down the market to see if any of the old faces are still about.
I soon bump into Jimmy Dix who runs the butchers shop in the market and we were at school together.. (This man is a dead ringer for Oliver Reed)
''You still singing Aitch''. '' No Jim I'm in the film game'' They're all poofs in that game''. ''Not all of them Jim''
We went on to chat about old times then Jim decided he fancied a swift half with his long lost mate.. (Me)
The afternoon sped by and when Jimmy decided to get up and sing a song in the pub (there was no music), I decided it was time to go to work..
When I get to the hall we're filming in the 1st A.D. tells me it'll be another couple of hours 'til they get to my bit and would I like to go for a tea break. (Now a strong coffee break is more what I'm after)
I drink a few cups of coffee and wander down to the canal to have a look around.
It's still there that big warehouse that Hitchcock used back in the black and white days.
After a ten minute kip on a bench I make my way to the hall just in time to do my bit..
I say the words (Don't fall over the furniture) then it's ''Cut and print'' One Take..
If only they was all as easy as this.
Bye, Bye Jimmy Dix and it was a good afternoon. Best wishes Aitch…
THE WINDS OF WAR…Director Dan Curtis…
Cast Inc… Robert Mitchum…Polly Bergen…Howard Lang…
Just one day's work in this production as a pool player in a pool hall..
Robert Mitchum has to brush me aside as he moves along the hall and after the shot was finished he came up to me and said ''You alright kid'' and shook my hand. (Now it's not everyday you get to shake hands with big Bob Mitchum)
These true stars of yesterday are still my heroes and as for him calling me ''Kid'' (I am now 42 years young)
THE GIRL ON THE TRAIN…Director Brian Farnham…Thames TV…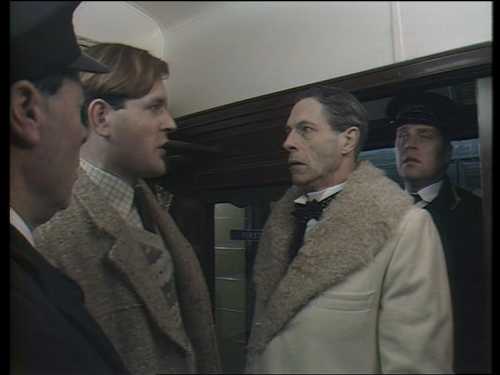 Scene from 'The Girl in the Train'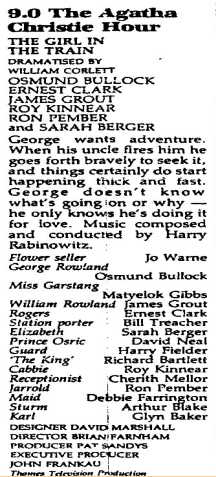 Filmed for a few days down on the Bluebell railways with a really strong cast.
Bill Treacher and I met again a few years later on EastEnders…
THE KENNY EVERETT SHOW…BBCTV…
I worked on a few shows with Kenny and you knew you were going to have a laugh at his camp humour.
On location he would play to the public and cause a stir where ever we were.
One great gag he would do was mince down a road and if someone ask what he was doing he would look at his watch and say '' It's the after eight mince''.
And it was always done ''IN THE BEST POSSIBLE TASTE''
Kenny died a young man but will never be replaced…
JULIET BRAVO…PRODUCER TERENCE WILLIAMS…BBCTV…
Cast Inc…Anna Carteret…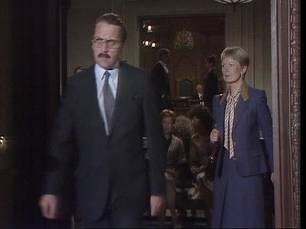 I was rehearsing for a program at the Acton Hilton and was approached by a production assistant on Juliet Bravo to see if I could fit in a couple of days for them.. (In sight in mind)
I was to play a man that tried to lure a young girl. (It's only acting).
When we do a camera rehearsal in the studio I could see a TV monitor and I was getting a lot of close up's.
Now before we did a take I went straight into make/up and asked them to change my hairstyle and give me a big moustache and a pair of glasses. (This man I was playing was not a very nice man)
Anna Carteret did not speak to me for the whole day. (She told me later, in the bar, that she didn't want to get friendly with me during the day because she wanted to hate my character during the court scenes)
I got off with the charge but I hated playing this man…
The show I was rehearsing was Maybury which aired in August 1983. It starred Patrick Stewart and was Directed by Donald McWhinnie..Loves Labour.... It was only a day's work on a building site in West London and the scene consisted of Patrick Stewart and myself..(a two hander). Patrick soon after went into space in the USA in Star Trek..(I did offer to go with him to no avail)...lol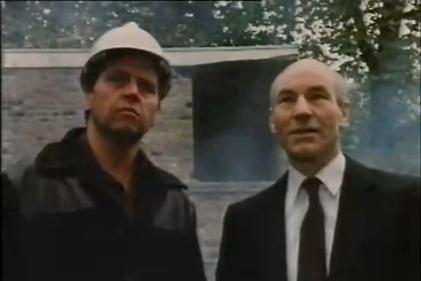 MAYBURY
(click on the picture for video clip)
CBTV…Director Stuart Hall…Producer…Dale Le Vack… Thames TV…
An Agent sends me down to Thames TV Studios at Teddington to play a uniformed security guard on this new show, which goes out live on Tuesdays at 4-45 pm..
The idea of the show is that the young presenters on CBTV (Illegal television) would occupy the boiler room and broadcast their show from there.
It's aimed at the 5 to 15 year old kids with pop stars and well known guests every week. My job would be to try and stop the young presenters from getting to the boiler room to broadcast the show.. I would be on the Thames TV gate and stop them coming into the studio. (But if I do stop them there's no show) ???.
(Got the plot so far. If I let them in I'm wrong and if I don't let them in I'm wrong)
Stuart Hall explained how it would work, ''Harry the security guard is a bit thick and when the boys are trying to get into the studio they will trick you so that they can sneak past you and do the show''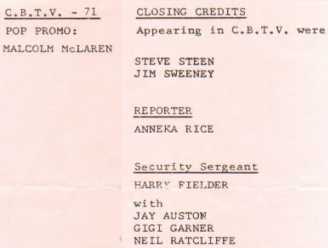 EDWARD (THE DOG) IS TRAINING TO BE AN ALSATION
The main presenters on the show were…Jim Sweeney, Steve Steen, Anneka Rice,
Sandra Young and Paul Henley and others who came and went over the next three years.
I usually pre recorded my bits which were the opening of the show so that the boys (or girls) could be in place when the titles finished and the show went live.
There was no script for me and I would have to ad lib like mad.
The two main boys Jim and Steve were good at ad lib and between us we would come up with a funny gate entrance every week.
After a while I was writing them on a Monday and phoning them into the studio in case I needed any props on Tuesday morning.
The show was a bit like Blue Peter on the BBC and we would talk about the latest news items for that week..
After my first day Stuart asked me if I would like to come back next week.
I said yes and ended up staying on and off for three years.
There are a lot of funny stories to tell about CBTV and I shall spread them over the next three years. I was only booked for Tuesdays which left time for other work…
AGATHA CHRISTIE'S PARTNERS IN CRIME..Episode: The Secret Adversary..LWT...
I get a call from LWT to see if I could do a few days for them on this production..?? Of course I said yes because it's always good to work on a Agatha Christie production. Anyway they're looking for a bad guy/henchman to give some of the main cast a slap now and then...
The cast are wonderful, headed by...
James Warwick
Francesca Annis
George Baker
Gavan O'Herlihy
Honor Blackman
Donald Houston
And many more top actors...
In my first scene I'm in a secret house with some of the main plotters talking about secret war documents when we find James Warwick hiding and listening in, so we grab him and lock him in another room (slap). A few more scenes and James escapes....
Near the end of the show I come back into it as I rough handle Francesca towards a car but gun shots start and someone gets shot in the left arm....(Guess who ??...yea me). The good guys escape in an open top car followed and chased by the bad guys, also in an open top car..
Lots of scenes with the car chase with me standing up in the second car and still trying to hit the car in front. Not good news for the bad guys because we lose the heroes....And all ends happy..
I enjoyed this shoot and would like to thank all cast and crew for a good time...Also thanks to Rocky Taylor.. Stunts and John Quilty..1st A.D.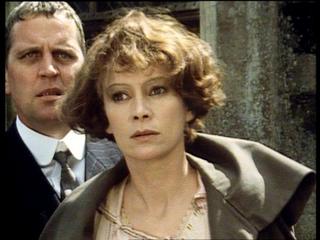 (Keeping my eye on the lovely Francesca Annis) It's a hard job, but someone's got to do it!