1968
HOSTILE WITNESS…Shepperton Studios…
Director:
Ray Milland

Writers:
Jack Roffey (play)
Jack Roffey (screenplay)

Cast

Ray Milland ... Simon Crawford - Q.C.
Sylvia Syms ... Sheila Larkin
Felix Aylmer ... Justice Osborne
Raymond Huntley ... John Naylor
Geoffrey Lumsden ... Major Hugh Beresford Maitland
Norman Barrs ... Charles Milburn
Percy Marmont ... Justice Matthew Gregory
Dulcie Bowman ... Lady Phyllis Gregory
Ewan Roberts ... Hamish Gillespie
Richard Hurndall ... Supt. Eley
Ronald Leigh-Hunt ... Dr. Wimborne
Sandra Fehr ... Joanna Crawford
Edward Waddy ... Usher
Maggie Rennie ... Julia Kelly (as Maggie McGrath)
Ballard Berkeley ... Clerk of Court
I was only on this for one day at Shepperton Studios dressed as a sailor / docker.
All I had to do was walk up a ships gang plank and load some goods on the ship.
Only thing was though the ship was a mock up side of of a ship built in the Shepperton yard and the sea was 50 miles away....''I could be some time'' I did meet Mr Milland....
ATTACK ON THE IRON COAST…
Directed by
Paul Wendkos

Writing credits
Herman Hoffman (screenplay)


John C. Champion (story)

Cast

Lloyd Bridges ... Major Jamie Wilson
Andrew Keir ... Captain Owen Franklin
Sue Lloyd ... Sue Wilson
Mark Eden ... Lieutenant Commander Donald Kimberly
Maurice Denham ... Rear Admiral Sir Frederick Grafton
Glyn Owen ... Forrester
Howard Pays ... Lieutenant Graham
Walter Gotell ... Van Horst
John Welsh ... Admiral of the Fleet Lord William Cansley
George Mikell ... Captain Strasser
Ernest Clark ... Air Vice Marshall Woodbridge
Dick Haydon ... Pringle
I remember this film quite vividly. It's a Second World War film about a raid on a German docks. The idea is to ram our ship into the docks and to cause as much havoc and mayhem to slow the Germans down as much as possible.We set the shot up and rehearse running down the gangplank firing our guns and screaming like banshees.
''The ship will not explode until you are all off it''??
After a few more rehearsals we hear. ''Lets go for a take''
Now, we are filming in the London Docks in the middle of the night and it's cold and dark. There are about a hundred Extras & twenty Stuntmen plus some Stunt doubles
For the main Artists...
''ACTION'' Yells the 1st A.D. Now we're all running to get off the ship, shouting and screaming. (I'm screaming for people to get out of my way). Small explosives go off
To add to the excitement and danger on screen...
We're near the gangplank now and I turn to see how many people are still behind me.
(Gulp) Nil, Zero, I'm the last one. (All the others must have been trained sprinters to get in front of me)
I'm halfway down the gangplank and there's no more screaming from me (the mouth has dried up.) Then up she goes. !!!!!BANG!!!!!…
(They say people pay a lot of money to have their hair singed.)

THE CHARGE OF THE LIGHT BRIGADE…Director…Tony Richardson…
David Hemmings…Filmed at Greenwich.
(I'm not too keen on this charging game as you can tell by my last film.)
CARRY ON UP THE KHYBER… Directed as usual by Gerald Thomas.
I'm on the film for three weeks.
Week one I'm dressed as an Arab (Burpa) guarding the Karsey of Baghdad (Kenneth Williams) and firing shots down on the rebels in the city square...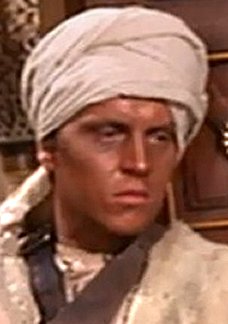 Week two I was dressed and used in various scenes.
Week three I was dressed as a rebel firing shots up at the Karsey of Baghdad whose arab guards were firing down on us.
(I wonder if I shot myself??)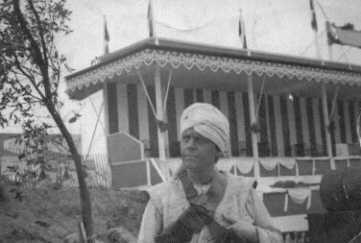 WELL AND TRULY UP THE KHYBER…68…
WHERE EAGLES DARE…Director…Brian G Hutton…
Cast Inc…Clint Eastwood, Richard Burton.
Played a German soldier for a few days.
STAR…Director…Robert Wise…Richmond Theatre…
Cast Inc…Julie Andrews…Richard Crenna…
Sat in the audience watching Julie sing and dance for a week. (Nice)
OLIVER…Lionel Bart's Masterpiece…Shepperton Studios…
Director:
Carol Reed

Writers:
Charles Dickens (freely adapted from "Oliver Twist")
Lionel Bart (book)
Cast

Ron Moody ... Fagin
Shani Wallis ... Nancy

Oliver Reed ... Bill Sikes
Harry Secombe ... Mr. Bumble
Mark Lester ... Oliver Twist

Jack Wild ... The Artful Dodger
Hugh Griffith ... The Magistrate
Joseph O'Conor ... Mr. Brownlow
Peggy Mount ... Mrs. Bumble
Leonard Rossiter ... Sowerberry
Hylda Baker ... Mrs. Sowerberry
Kenneth Cranham ... Noah Claypole
Megs Jenkins ... Mrs. Bedwin
Sheila White ... Bet
Wensley Pithey
I was on this film for weeks and was in awe of the whole production.
The first day was as an extra on the ''Who Will Buy'' set and I could not believe what I was seeing.
The dancing, the sets, the hundred or so extras all dressed in costume was as much as I could take in, I thought to myself how lucky I was to be on such a film and would have worked on the film for no wages. (Then I thought of the wife and kids at home so the first thought went right out of my head.)
Art for art's sake but money for the kid's sake…(old English proverb)



DRESSED TO KILL ON ''OLIVER''
THE BLISS OF MRS BLOSSOM…Joseph McGrath…
Cast Inc…Richard Attenborough…James Booth…
Filmed for a week at Alexandra Palace North London dressed as a fireman.
Lots of girls on Kirby wires hoisted up in the air as their bra's inflated.
A young Bob Monkhouse looking very hippy. (It was 68)
THE VENGEANCE OF SHE…
Director:
Cliff Owen

Writers:
H. Rider Haggard (novel)
Peter O'Donnell (writer)

Cast

John Richardson ... Killikrates
Olga Schoberová ... Carol (as Olinka Berova)
Edward Judd ... Philip
Colin Blakely ... George
Jill Melford ... Sheila
George Sewell ... Harry
André Morell ... Kassim
Noel Willman ... Za-Tor
Derek Godfrey ... Men-Hari
Daničle Noël ... Sharna
Gerald Lawson ... The Seer
Derrick Sherwin ... No. 1
William Lyon Brown ... Magus
Charles O'Rourke ... Servant
Zohra Sehgal ... Putri (as Zohra Segal)
This was a kind of follow on to the film ''SHE'' of a few years earlier.
About fifty Supporting Artists were dressed up as cave dwellers (Rags and fur) and in one scene we had to run through the caves in unison and chant out, ''Um pa, Um pa''.
(Of course we had the joker in the pack that added ''Stick it up your jumper'' (Me)

I could get to like this business.
CHITTY, CHITTY BANG, BANG…Pinewood…
Director:
Ken Hughes

Writers:
Roald Dahl (screenplay) &
Ken Hughes (screenplay) ...

Cast

Dick Van Dyke ... Caractacus Potts
Sally Ann Howes ... Truly Scrumptious
Lionel Jeffries ... Grandpa Potts
Gert Fröbe ... Baron Bomburst (as Gert Frobe)
Anna Quayle ... Baroness Bomburst
Benny Hill ... Toymaker
James Robertson Justice ... Lord Scrumptious
Robert Helpmann ... Child Catcher
Heather Ripley ... Jemima
Adrian Hall ... Jeremy
Barbara Windsor ... Blonde
Davy Kaye ... Admiral
Alexander Doré ... First Spy (as Alexander Dore)
Bernard Spear ... Second Spy
Stanley Unwin ... Chancellor
And he never said ''Gawd 'elp me Mary Poppins'' once)
A good film to work on with plenty of hot sunny days…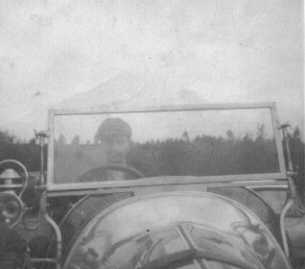 DRIVING THE ACTUAL ''CHITTY'' 1968…………..
2001 A SPACE ODYSSEY…MGM Elstree…
Director:
Stanley Kubrick

Writers:
Stanley Kubrick (screenplay) &
Arthur C. Clarke (screenplay)
Cast

Keir Dullea ... Dr. Dave Bowman
Gary Lockwood ... Dr. Frank Poole
William Sylvester ... Dr. Heywood R. Floyd
Daniel Richter ... Moon-Watcher
Leonard Rossiter ... Dr. Andrei Smyslov
Margaret Tyzack ... Elena
Robert Beatty ... Dr. Ralph Halvorsen
Sean Sullivan ... Dr. Bill Michaels
Douglas Rain ... HAL 9000 (voice)
Frank Miller ... Mission controller (voice)
Bill Weston ... Astronaut
Ed Bishop ... Aries-1B Lunar shuttle captain
Glenn Beck ... Astronaut
Alan Gifford ... Poole's father
Ann Gillis ... Poole's mother
I'm on the film for one day doubling for one of the main actors.
All I had to do was walk across the Moon surface in a spacesuit.
It took me twelve hours (multi takes) but It was still a year away before the
American's did it for real in 69…
SALT AND PEPPER…Peter Lawford & Sammy Davies Jnr…Shepperton…
I had some lines to say to the two main actors. I was dressed as a policeman.
(If only the boys in my local could have seen me)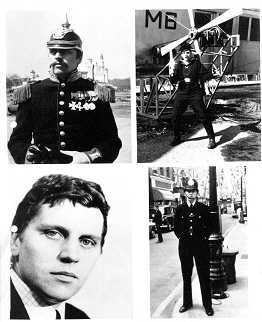 TOP LEFT…CHITTY BANG, BANG…TOP RIGHT…ASSASSINATION BUREAU…
BOTTOM RIGHT…SALT AND PEPPER… LEFT… ME IN 1966…

ISADORA…Director…Karel Reisz…
Cast Inc…Vanessa Redgrave…James Fox…
I remember seeing Vanessa sitting in a car with a long scarf found her neck.
INADMISSABLE EVIDENCE…Director…Anthony Page…
Cast Inc…Nichol Williamson…Eleanor Fazen…
I'm sitting in a police van next to Nichol for the day…
THE DEVIL RIDES OUT…Director…Terence Fisher…
Cast Inc…Christopher Lee…Patrick Mower…
Another Hammer horror and I think Patrick still had his milk teeth.. (He was young)
PRUDENCE AND THE PILL…Director…Fielder Cook…
Cast Inc…Deborah Kerr…David Niven…
We spent a nice few days filming at Brands Hatch watching a girl stunt double for
Ms Kerr crossing the race course as the cars flashed by at break neck speed.
(Rather her than me) For some reason I like the directors name.
THE CHAMPIONS... Episode..The Silent Enemy...
Met up with a guy... Bill Westley and was to work with him for many years..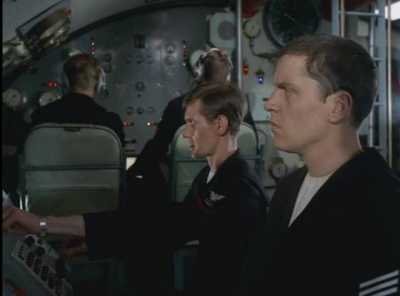 FRANKENSTEIN MUST BE DESTROYED
Director:
Terence Fisher

Writers:
Bert Batt (screenplay)
Anthony Nelson Keys (story)

Cast

Peter Cushing ... Baron Frankenstein
Veronica Carlson ... Anna
Freddie Jones ... Professor Richter
Simon Ward ... Karl
Thorley Walters ... Inspector Frisch
Maxine Audley ... Ella Brandt
George Pravda ... Doctor Brandt
Geoffrey Bayldon ... Police Doctor
Colette O'Neil ... Mad Woman
Frank Middlemass ... Guest - Plumber
George Belbin ... Guest - Playing chess
Norman Shelley ... Guest - Smoking pipe
Michael Gover ... Guest - Reading newspaper
Peter Copley ... Principal
Jim Collier ... Dr. Heidecke
Bert Batt (screen play) is better remembered as one of the best 1st Assistant Directors of his day.
I did get to work with him a few times.
And of course the lovely Veronica Carlson... It's good to go to work....