Home > Children's Programmes > Westerns > Other Westerns
'Renfrew of the Mounties' - James Newill starred as the singing Mountie in this rousing Yukon adventure series, full of action, suspense and good-natured hi-jinx. Refrew would saddle up in hot pursuit of counterfeiters, bank bandits, gold thieves and hijackers, and always got his man.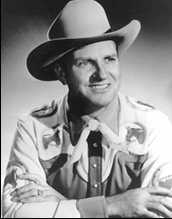 'The Gene Autry Show'
Western film star Gene Autry rode onto TV with this long-running series. With the help of his horse Champion, and with Pat Buttram by his side for comic relief, Autry would trot into town, help someone in distress, then end each episode with a song before riding off into the sunset once again. Typical plots would have Autry facing off against cattle rustlers, corrupt lawmen, and other frontier baddies.

Gene Autry Show intro
'Laramie' (1959-1962) starred John Smith, Robert Fuller, Hoagy Carmichael and Bobby Crawford, Jr. Set in the Wyoming town of the title in the 1880's.

Laramie Theme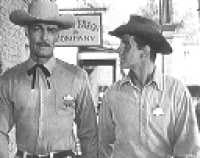 'Lawman' (1958-1962) The series followed the adventures of Marshall Dan Troop (John Russell), Sheriff of the wild west town of Laramie. Peter Brown co-starred as his young, unbridled Deputy, Johnny McKay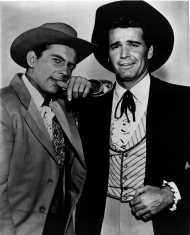 'Maverick' (1959-1962) starred James Garner and Jack Kelly as brothers, Bret and Bart and they alternated roles, so that it was Bart starring one week and Bret the next. Garner was the more popular of the two, and some episodes featured both "brothers". Roger Moore was occasionally featured as Beau Maverick, the English cousin to the two brothers Maverick. This clever, subversive series turned the late fifties TV western on its head, featuring as it did a devious, cowardly card-sharp hero who relied on guile rather than guns and drifted from one easy opportunity to the next.

Maverick Theme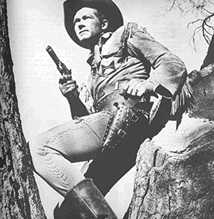 'The Adventures of Kit Carson' (1952-54) starred Bill Williams (who was a former swimmer before making a splash with this series) as Christopher 'Kit' Carson and Don Diamond as El Toro. 104 episodes.

Kit Carson clip
| | |
| --- | --- |
| | 'Yancy Derringer' (1958) starred Jock Mahoney as Yancy Derringer, X Brands as Pahoo Ka Ta Wah, Julie Adams as Amanda Eaton and Frances Bergen as Madame Francine (34 episodes). Yancy Derringer was a gentleman adventurer living in New Orleans, Louisiana, after the Civil War. Widely respected, he is hired by the city administrator, John Colton, as a secret agent authorized to help maintain law and order and justice in the city by any means necessary. Colton often arrested Yancy for breaking the law, though, when Yancy's methods were excessive. His constant companion is a Pawnee Indian who communicates with him only by hand gestures, and appears ready at a moment's notice to use the shotgun that he always carries. |
Triviaplus.net Western books for sale

If you have any comments or further information of interest, please e-mail webmaster@whirligig-tv.co.uk