Home > Children's Programmes > Westerns > Fury
'Fury' (1955-60)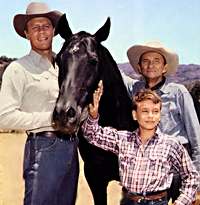 The story of Joey, an orphan boy befriended by Jim Newton a horse rancher. Jim had captured Fury a wild stallion after three years of trying, and Pete his foreman named the him during a conversation where Pete said the horse was full of "Fire and Fury." Joey soon made friends with Fury, and was the only person who was able to ride him after saving his life.
Each episode took Joey and Fury to new adventures, along with his two pals Pee Wee and Packy.
Peter Graves, Bobby Diamond and Beaut as Fury starred.
More Fury Information is available at Broken Wheel Ranch

If you have any comments or further information of interest, please e-mail webmaster@whirligig-tv.co.uk