Home > Children's Programmes > The Silver Sword
The Silver Sword (1957)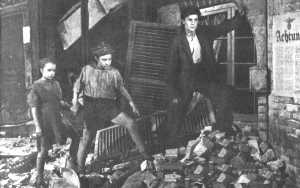 The story was serialised on BBC Children's Television in 1957 and was about a Polish family, The Balikis, who are rendered homeless when the Nazis invade their country. Separated from their parents, the Baliki children must depend on each other for survival, and journey toether to Switzerland to find their father.
The author of the book, Ian Serraillier, spent five years on the research.
The Silver Sword was a sort of mascot (actually a paper knife), turning up at various key points and threading the story together.
Ruth was defined by the calm, unselfish way she dealt with the setbacks which befell them, her good humour in appalling circumstances, and her sure sense of right and wrong. Jan was a thieving urchin who loved animals and hated the Germans.
Gwen Watford played Magrit Balicki, Jan was played by Frazer Hines, and Ruth's brother, Edek, by Melvyn Hayes (looking particularly consumptive and malnourished). Other parts were Barry Letts as Joseph Baliki, Pat Pleasence as Ruth, Ingrid Sylvester as Bronia, Brenda Dunrich as Mrs. Wolff and George Woodbridge as Mr. Wolff.
Design was by Lawrence Broadhouse and adaption was by C.E.Webber.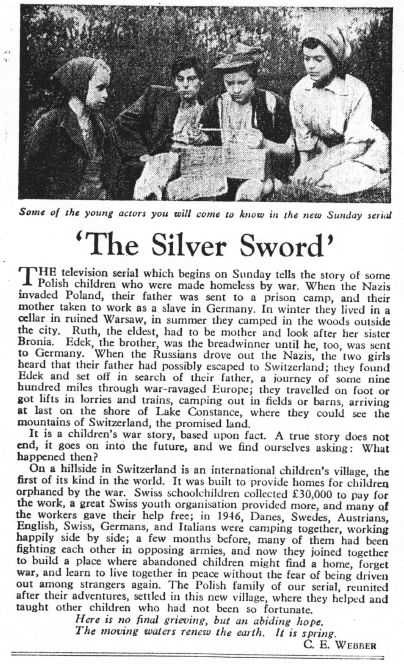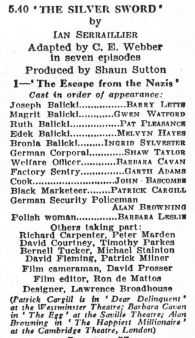 If you have any comments or further information of interest, please e-mail webmaster@whirligig-tv.co.uk