The Railway Children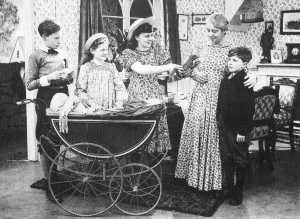 Scene from the 1951 BBC adaptation: (left to right) Michael Croudson (Peter), Carole Lorimer (Phyllis), Marian Chapman (Bobbie), Marjorie Manning (Mrs. Perks), and Thomas Moore (Master Perks).
The first BBC TV version was presented as an 8 part x 30mins. serial between 6 Feb 1951 and 27 Mar 1951.
The original production was broadcast live from the Children's TV studio at Lime Grove. There was one transmission during the week with a live repeat, often with a totally different crew, on Sundays. In those days, the amount of telecine (film inserts) was relatively small, so there was great pressure on the actors and the camera crews.
1951 Cast List
8 part serial Feb - Mar 1951
Bobbie: Marion Chapman.
Mother: Jean Anderson.
Phyllis: Carole Lorimer.
Peter: Michael Croudson.
Mrs Viney: Hilda Barry.
Perks: Michael Harding.
The Old Gentleman: D.A.Clarke-Smith.
Doctor: John Le Mesurier.
Produced by: Dorothea Brooking.
Settings by: Lawrence Broadhouse.
2nd 1951 Production
4 part serial July 1951.
The same adaptation that was used in the 8 part
serial above, with largely the same cast.
Each episode was 60 minutes
Included film footage shot in the original serial as well as new footage.
Credits:
Production Company: BBC
Producer: Dorothea Brooking
Adaptation: Dorothea Brooking
Set Designer: Lawrence Broadhouse

Cast:
Roberta : Marian Chapman
Peter : Michael Croudson
Phyllis : Carole Lorimer
Mother : Jean Anderson
Father : John Stuart
Ruth : Ysanne Churchman
A carter: Ronald Marriot
Station Master : David Duncan
Perks, the Porter : Richard Warner
Doctor Forrest : John Le Mesurier
Mrs Viney : Hilda Barry
The Slavonian : Denis de Marney
The Old Gentleman : D.A.Clarke-Smith
Engine driver : Robert Cawdron
Passenger : Rosamond Tattersal
? : Janet Bruce
Engine driver : Jack Newmark
District Superintendent : Clive Dunn
Mrs Perks : Marjorie Manning
Master Perks : Derek Hodgson
Jim : Michael Danvers-Walker
Labourer : Reginald Barratt
Further adaptations were presented by the BBC in 1957 and 1968.
Transmitted in eight episodes from Sunday the 3rd March 1957
1957 Cast List
The Old Gentleman: Norman Shelley.
Bobbie: Anneke Willys.
Peter: Cavan Kendall.
Phyllis: Sandra Michaels.
Mother: Jean Anderson, ( As 1951 series ).
Father: John Richmond.
Ruth: Ysanne Churchman.
Cook: Vi Stevens.
Perks: Richard Warner.
The Stationmaster: Donald Morley.
Carter: Paddy Ward.
Also appearing:
Arthur Mason.
Edward Wade.
Norman Shelley.
Produced by: Dorothea Brooking, (as 1951 series).
Film Director: Patrick Dowling.
Film Cameraman: Peter Sargent.
Film Editor: Ron de Mattos.
Designer: Eileen Diss.
| | | |
| --- | --- | --- |
| Scene from the 1957 BBC adaptation | | Issue of Radio Times 3-9 March 1957 |


Railway Children Theme Tune
as used for the '50s serialisations on BBC Television
(Symphonic Dances No. 2 by Grieg)