Home > Children's Programmes > David Nixon
David Nixon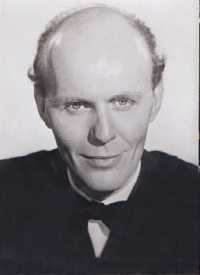 David Nixon started his career on television in the early '50s performing magic illusions for both adults and children. After the war, he had toured the halls and appeared in the famous Fol-de-Rols concert party at Scarborough and in London's West End.
He built all his own tricks at home and had many of his own television series over the years, which sometimes included some special TV effects. One such effect was a "small" lady who stood on his hand and with whom he had conversations.
David Nixon went on to become a major television personality and appeared in 'What's My Line'
One of his later series also introduced Basil Brush to TV for the first time.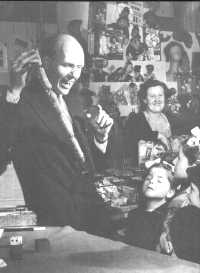 David Nixon audio clip

Christmas Night with the Stars video clip with David Nixon and Charlie Drake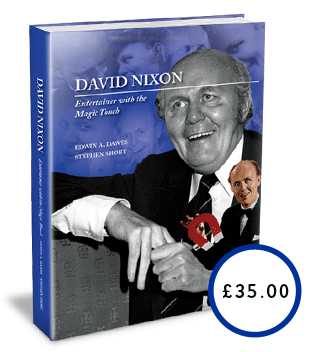 David Nixon: Entertainer with the Magic Touch
For more than twenty years, millions of British television viewers tuned in to watch a true wizard at work. As a panellist on What's My Line? or as the host of It's Magic and many other shows, David Nixon was not just a magician, but a peerless performer whose warmth and wit made him a natural star. David Nixon: Entertainer with the Magic Touch tells the story of a remarkable life: how David's childhood fascination with conjuring tricks led to wartime adventures with ENSA, and how he rose from running concert parties to being the nation's best-loved star.
David's personal life was one touched by tragedy. Yet for all his mastery of illusion – the mind-reading Nap Hand card trick or the mysterious mid-air disappearance of a lady in the Dizzy Limit – the easygoing on-screen image that made him a friend to every viewer was no deception, but a true reflection of a hardworking optimist who lived to entertain. For the first time, Edwin A. Dawes and Stephen Short have interviewed David's many friends and loved ones to present a full portrait of his life. Lavishly illustrated using family photographs, publicity posters and television stills, David Nixon: Entertainer with the Magic Touch is a truly enchanting book.
Published by Jeremy Mills Publishing
ISBN: 978-1-906600-44-0
Hardback with dust jacket, 288 pages, 276x210mm, full colour throughout, RRP:£35.00
Click here for more information

If you have any comments or further information of interest, please e-mail webmaster@whirligig-tv.co.uk