Home > Children's Programmes > Mick and Montmerency
Mick and Montmorency
Whilst this inept twosome perhaps set a bad example to their young viewers with their various exploits, they are remembered by a certain age as bringing some good old fashioned slapstick, to our TV screens in the mid '50s.
Pint-sized Charlie Drake and Jack Edwardes had originally met when they both served in the Royal Air Force. However it was some time later, after they had both failed an audition for the Windmill Theatre, that they decided to form a double-act. Working together at a holiday camp, Jack became entertainments manager and booked himself and Charlie as the comedy duo for an 18 week stint. With their very different statures making them look comical to start with, the slapstick duo called themselves Mick & Montmorency. Their act was based on the clumsy, yet inspirational comedy style of Laurel & Hardy with Jack as Mick, and Charlie as Montmorency, taking the brunt of their stupidity. They were seen by TV producer Michael Westmore who thought they would be ideal for the BBC Television children's programme 'Jigsaw'.
Later, in 1955 Associated Rediffusion signed them up as ITV's first comedy duo and made the debut on September 30th. for the first of 22 disaster-filled episodes. Apparently, only the first show billed them as 'Mick & Montmorency' and thereafter as 'Jobstoppers' and featured them as a couple of inept jack-of-all-trades from workmen to scientists. However, after 34 episodes, the show's title reverted back to 'Mick & Montmorency'. Each episode would end with Montmorency doing something silly and Mick getting the end result. Mick would then say to Montmorency "One of these days I'm going to lose my paddi-whack with you". Charlie's catchphrase was "Mick not to touch Mont!"
Under it's own name the final series ran from 1956 to 1957 before it became part of another children's series 'Jolly Good Time'.
By the end of the second series Charlie parted company with Jack, having decided he wanted to broaden his outlook from children's TV and develop his comedy for a more adult audience and went on to enjoy great success on TV, film and records.
Although they never became a household name, it's quite surprising to discover that between 1955 and 1958, Jack and Charlie appeared as Mick & Montmorency in no less than 91 episodes of 10, 15 and 20 minute shows and are fondly remembered by all those who watched their ineptitude.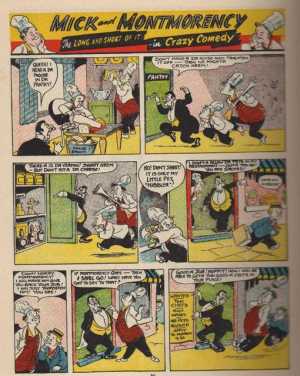 Click on the comic page to enlarge

If you have any comments or further information of interest, please e-mail webmaster@whirligig-tv.co.uk