Home > Children's Programmes > Other > Jesus of Nazareth
'Jesus of Nazareth' (1956)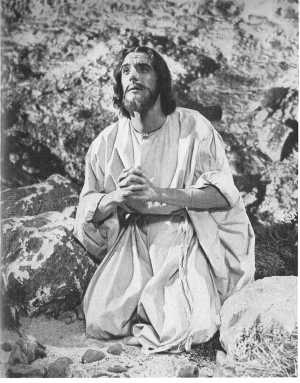 Jesus prays in the wilderness. With discreet dignity, the actor Tom Fleming created a moving
as well as an educative interpretation of Jesus
Television history was certainly made in 1956 by a series of eight programmes produced weekly by the BBC. This was the first full-life reportage of the life of Jesus Christ to be created for television. In it, for the first time, an actor appeared in the complete role of Jesus; the part was taken by Tom Fleming. Treated as an experiment, Jesus of Nazareth was placed in the children's programmes slot on Sundays. But it attracted an adult audience whose appreciation placed it, as a BBC survey showed, next to the Coronation of 1953 in national appeal.
The series was was produced by Joy Harington. It was considered her most notable work for television and she received the 1956 award of the Guild of Television Producers and Directors (now BAFTA), the first to be presented for a children's serial. A live studio production with exteriors filmed on location in Galilee and Jerusalem, it was a courageous undertaking. At that time, censorship regulations prohibited the portrayal of Christ by an actor in public performances. However, the Central Religious Council approved the project and Tom Fleming was cast as Jesus Christ. The serial was an outstanding success. Harington followed with a similar ten-part series, Paul of Tarsus (BBC, 1960), for which the exteriors were filmed mainly in Crete.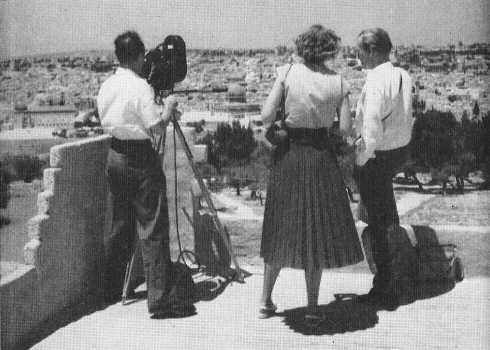 Camaraman Peter Sargent, Producer Joy Harington and Assistant Producer David Goddard, filming exterior scenes
from The Mount of Olives. The series was produced "live" with some film inserts.
"Suffer the litle children to come unto Me ..." As in the picture below,
filmed on the Sea of Galilee, Jesus of Nazareth brought to life the
authentic background of the greatest story of all time.
Above, Pilate brings Jesus to the people. Alan Wheatley took the role of Pilate.
Below, at the Crucifixion. Philip Latham played a soldier, cynical but shaken.
These scenes were among some of the most powerful ever televised at the time.

If you have any comments or further information of interest, please e-mail webmaster@whirligig-tv.co.uk