Home > Children's Programmes > Daisy May
Daisy May assisted by Saveen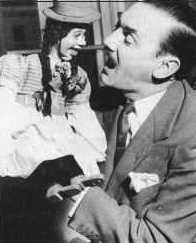 Albert Saveen (or just "Saveen" as he was known) was a ventriloquist who had fourteen puppet characters including Daisy May - a tiny schoolgirl dummy, Andy the Spiv - a cockney boy, a sad little boy adopted by Daisy May called Sonny and a dog who used to say "Drop Dead!" in a very droll posh voice whenever Mr. Saveen or Daisy spoke to him.
The dolls were always packed away in a suitcase when Saveen had finished with them and they could be heard arguing together inside the suitcase and making rude remarks about Saveen.
| | | |
| --- | --- | --- |
| | | Click on the picture above for YouTube video clip |
During part of the show, the dummy dog (on the right in the picture above) would bark incessantly. Saveen would tell it to be quiet, whereupon it would reply in a posh voice "No I won't ! ". A little later in the act, Saveen would point out the dog on the left, sat rock still on a chair. The dummy dog would sniff him, ask if he could talk and suggest that he was stupid. At the end of the act, the dog on the chair (called Mickey) would open a false lower jaw (operated by Saveen) and say "Why don't you shut that ruddy dog up!" and then jump down and walk away, being a very well trained real dog.
Saveen was a trained carpenter and made and repaired most of his characters himself. He had been injured by an exploding bomb during the War and suffered damage to his lungs. His recuperation exercises involved breathing with just one lung at a time and it was through this that he was able to develop the tiny Daisy May voice. He was unable to return to his job in the printing trade afterwards and decided to take up his hobby, ventriloquism, full time. He started with ENSA entertaining the troops and was discovered by Val Parnell. Although he had developed the voice, he still had no doll to go with it and so he decided to create the Daisy May character. He always appeared immaculately dressed in Top Hat and Tails.
Saveen appeared first on BBC Radio where he was the first ventriloquist to have his own radio show, beating Peter Brough and Archie Andrews to it by just a matter of weeks, and later on Television.
The act would usually finish with this song:
"Daisy May,
People say you'll marry me one day,
And by the way you sigh,
And look me in the eye,
I somehow think that Daisy may"
Ann G. remembers:
Saveen worked a summer season in Eastbourne in the early 1950s. I think he had a caravan which he stayed in and he came for a meal each evening at my parents' restaurant opposite the Winter Garden and became a firm favourite with myself and my three younger sisters. We were sad when the season ended and he left. We never saw him again!

We had a lot of celebrity customers during the years we were there.
Top picture and sound clip courtesy of John Martin

If you have any comments or further information of interest, please e-mail webmaster@whirligig-tv.co.uk