Home > Children's Programmes > Billy Bunter
Billy Bunter of Greyfriars School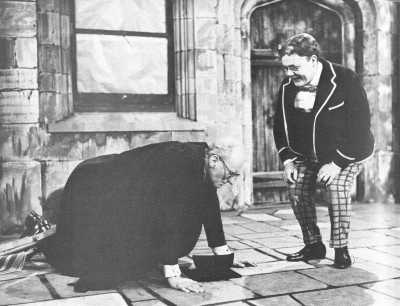 Billy Bunter (played by Gerald Campion) confronts his form master, Mr. Quelch (Kynaston Reeves).
"I say, you fellows!"

Gerald Campion with David Hemmings
and Anthony Valentine

'Billy Bunter' - The Fat Owl of the Remove.

The series starred Gerald Campion, above (who was 29 at the time!), and was based on the books written by Frank Richards. At one time it was so popular that it was transmitted at 5.40pm for children and again at 8pm for the parents!

Bunter's teacher was Mr. Quelch (played first by Kynaston Reeves and later by Jack Melford). Harry Wharton, Bob Cherry, Johnny Bull, Hurree Jamset Ram Singh, Frank Nugent, Lord Mauleverer, and the bully Coker were his schoolchums at Greyfriars School. He loved jam tarts particularly.
Some of the actors who appeared are listed here:

Billy Bunter: Gerald Campion
Mr. Quelch: Kynaston Reeves, Jack Melford, Raf de la Torre and John Woodnutt
Harry Wharton: Anthony Valentine, Julian Yardley, John Charlesworth and Richard Palmer
Bob Cherry: Brian Roper, Peter Greenspan, Keith Faulkner and Cavan Kendall
Frank Nugent: Laurence Harrington, Michael Briant, Jonathan Margetts, Peter Marden and Michael Danvers-Walker
Hurree Ram Set Jam Singh: Barry Barnett, Brian Tipping, Ron Moody and David Spenser
Johnny Bull: David Coote, Melvyn Baker, Colin Campbell, John Breslin and Barry McGregor
Horace Coker: Peter Scott and Ian Hobbs
Lord Mauleverer: Cavan Malone

Other members of the cast over the years were: Ronald Adam, Jeremy Bulloch, Gregory Warwick, Michael Tennant, William Strange, Hugh Ward.

Also, later to be famous, Michael Crawford made one of his first TV appearances in this series, as did David Hemmings and Melvyn Hayes.
The first series was produced by Joy Harrington. Shaun Sutton produced six of the later episodes.
A few clips are available for viewing on YouTube:
http://www.youtube.com/watch?v=DfuVQJdA-z8
http://www.youtube.com/watch?v=7hGYHcAf3Ig
http://www.youtube.com/watch?v=-9-cWmwYcEQ
Visit another Billy Bunter site for more information
And yet another Bunter website!

If you have any comments or further information of interest, please e-mail webmaster@whirligig-tv.co.uk