Home > Children's Programmes > Blue Peter
Blue Peter
The brainchild of John Hunter Blair, Blue Peter was first transmitted on 16th. October 1958 and was commissioned to provide a programme which would bridge the gap for the five to eight-year-olds who were growing out of Watch with Mother, but were too young to follow Studio E, the regular magazine programme. In those days , the idea that a programme could embrace the entire age range from five to twelve-year-olds was considered an impossibility and, if you take Blue Peter out of the equation, the same is true today.

It was originally introduced by Christopher Trace (25 years old and a former army officer, turned actor) and Leila Williams (21 years old and the former Miss Great Britain 1957 ) from the BBC Lime Grove Studios and is still running today.

The belief that Biddy Baxter invented Blue Peter is one of the most often quoted inaccuracies in the history of children's television programmes. In fact she was appointed to fill the post of producer when John Hunter Blair became ill with a heart complaint.
When Blue Peter began, the programme was very different from the one you see now. It was shorter, shown only once a week and consisted mainly of Chris showing model railway layouts and Leila showing dolls. There were no pets, no badges and no ship, but there was the familiar theme tune, called "Barnacle Bill". Tony Hart appeared telling and drawing stories about Packi the baby elephant.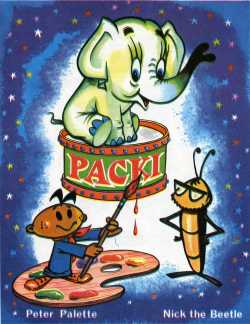 Blue Peter celebrates its 50th anniversary in October 2008:

If you have any comments or further information of interest, please e-mail webmaster@whirligig-tv.co.uk