Omnibus Press
Rock & Pop on British TV
Jeff Evans
Published February 16th 2017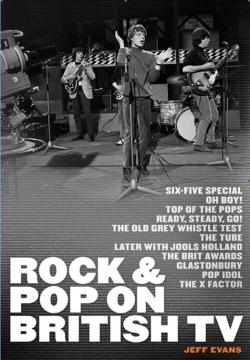 'Author Evans does us proud. He's listed just about every worthwhile TV programme that's tooted its flute on behalf of pop, and keeps everything entertaining… it's a brilliant ride.'
Fred Dellar, Mojo
'What a treasure … a work of scholarship with such abundant research.
Brilliant stuff.'
Tony Palmer, director All My Loving
Rock & Pop on British TV by Jeff Evans celebrates 60 years of pop music on British television.
On 16th February 1957, the first edition of the BBC's Six-Five Special was aired. Hosted by Pete Murray and Jo Douglas, the lively Saturday night programme was the first television show to embrace rock 'n' roll music, and it set the scene for hundreds of rock and pop shows to follow.
TV historian and music aficionado Jeff Evans has compiled the whole story of the six decades that followed, speaking to artists and presenters whose careers were shaped by music on television and providing context on how programmes fitted into the music landscape of the time.
Covering the highs and the lows of music on British television, the book recalls – among many stand-out moments – the Beatles playing to the planet in Our World, David Bowie's gender-fluid performance of Starman on Top of the Pops, the Sex Pistols' appearance on Today with Bill Grundy, the euphoria of Live Aid, and Sam Fox and Mick Fleetwood's tragicomic night hosting The BRITs in 1989.
In more than 300 pages of lively text, the book reveals what connects The Old Grey Whistle Test to Meryl Streep, the male musician who auditioned to be presenter of The Tube dressed as a bride, and an awards show that critic Clive James described as having 'the lasting importance of someone breaking wind in the middle of a hurricane'.
Also included are less widely remembered shows such as Discs A Gogo, Lift Off With Ayshea, Revolver, The Hitman and Her, The White Room and Popworld.
Rock & Pop on British TV is the definitive read on the importance of music on telly from its inception to the present day.
Chapters Titles:
The Fifties - It's Time To Jive On The Old Six-Five
The Sixties - The Weekend Starts Here
The Seventies - Say Something Outrageous
The Eighties - It's 12 Noon In London
The Nineties - Cool Britannia
The New Millennium - Over On The Red Button
About the author:
Jeff Evans was born in South Wales and is a language graduate from the University of Reading. He is the author of around 30 books, including the acclaimed Penguin TV Companion (four editions), Midsomer Murders: the Making of an English Crime Classic and Evans' TV Trivia. Wearing a different hat, he is one of the world's best-known beer writers, a former editor of CAMRA's national Good Beer Guide, and the author of the Good Bottled Beer Guide, So You Want to Be a Beer Expert? and CAMRA's Beer Knowledge. He has also written for Radio Times, The Daily Telegraph and Sunday Mirror.