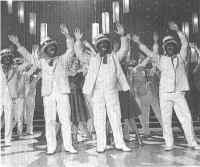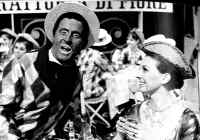 (1958-78)
One of the period's favourite musical entertainments.
The show stemmed from a one-off special called The 1957 Television Minstrels and featured the Mitchell Minstrels (with solo performers Dai Francis, Tony Mercer and John Boulter), conducted by George Mitchell and the Television Toppers dance troupe who provided the glamour.
Lightweight moments were provided by Leslie Crowther, George Chisholm and Stan Stennett during the early years.
Other long serving Al Jolson lookalikes were Benny Garcia, Les Rawlings, Les Want and Andy Cole. Female contributors included Margo Henderson, Margaret Savage, Penny Jewkes, Delia Wicks and others.
They specialised in sing-along medleys some originating from America's deep South, and others Country and Western in origin, or were derived from foreign folk cultures.
The programme was produced and directed by George Inns.

Black and White Minstrel Show sound clip

Video clip courtesy of the Alexandra Palace Television Society YouTube Channel