Home > Adults' Programmes > The Larkins
The Larkins (1958-60)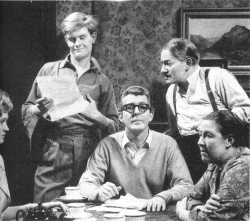 Were the rumbustious cockney family headed by the henpecked, but cunning husband, Alf (played by David Kossoff, 2nd. right), and his burly, battleaxe, bossy wife, Ada (Peggy Mount, seated right). The other regulars were Shaun O'Riordan (2nd left) as unemployable son Eddie, Ronan O'Casey (centre) as American son-in-law Jeff Rogers (an out-of-work writer of cowboy comics) and Ruth Trouncer (left) as daughter Joyce Rogers.
They lived at 66 Sycamore Street somewhere in the London suburbs and Alf worked in the canteen at a plastics factory. Neighbours were Hetty Prout (Barbara Mitchell), her husband, Sam (George Roderick) and their daughter Myrtle (Hilary Bamberger).
Together, they found themselves in a variety of farcical situations that proved so popular that a spin-off film was released in 1959 called Inn for Trouble which saw the Larkins in charge of a country pub.
A final series was made in 1963-64.

If you have any comments or further information of interest, please e-mail webmaster@whirligig-tv.co.uk