Home > Adults' Programmes > Jim's Inn

Jim's Inn (1957- 63)
Was the most famous Admag format programme (specially built around commercials). It came to an end, only when Parliament outlawed such programmes, in 1963. Each 15 minute episode went out live, once a week, at 10:45pm. It was a sort of mini-soap, featuring Jimmy and Maggie Hanley, as a couple who ran a warm and friendly village pub in a place called Wembleham.
The Director was Pat Baker. Jimmy Hanley and Bob Kellett scripted the show, Bob blending information about prices and products with Jimmy's ideas on incidents and gags. "It sounds paradoxical, but without the advertisements it would lose a lot of reality. People do talk, in a village pub, about things like household or gardening gadgets, and how much they paid for them", said Bob.
Products which featured in the 250th. edition, for instance, included Thermos Brand Vacuum Flasks, Gaymer's Cider, Waft, Goddard's Gardstick, Ekco Baby-Sitta, Trout Hall Orange Juice, Aquafilter, Fison's Liquisprayer, and a regular, Ben Truman.
Regular cast members were:

Jimmy..............Jimmy Hanley
Maggie...........Maggie Hanley
Roma.............Roma Cresswell
Ron.................John Sherlock
Jack............Jack Edwardes
Peggy................Diane Watts
Dennis...........Dennis Bowen
Fred.................Ken Haward
???....................Victor Platt
Jimmy Hanley was well known from his film and TV appearances, such as in the film 'The Blue Lamp' and TV shows like 'Five O'Clock Club'.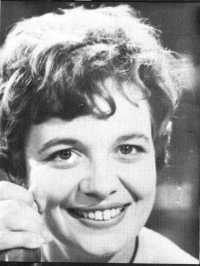 Actress Maggie Hanley was, in real life, Jimmy's second wife. Their three daughters are Jane, Sarah and Katy. Maggie appeared in the film 'A Boy, a Girl, and a Bike', under her earlier stage name of Margaret Avery.
Jimmy's first wife was actress Dinah Sheridan, perhaps best known for her appearance in the film 'Genevieve'. Jimmy and Dinah's children are Sir Jeremy Hanley, one-time Conservative Minister, and Jenny Hanley, presenter of the children's TV programme 'Magpie'.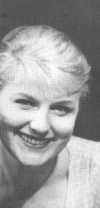 Actress Roma Cresswell (aka Roma Dumville/Roma Denville) ran the beauty salon in Wembleham. Her other appearances included the 1950's early soap 'One Family', written by writer R F Delderfield, and she played Rex Harrison's sixth wife in the film 'The Constant Husband'. Her Wembleham husband was 'Fred', played by Ken Haward, who ran the village garage.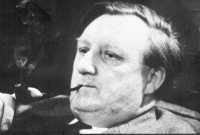 Absent minded 'Ron' managed Wembleham village hardware store. Burly pipe-smoking Jack Edwardes played 'Jack', a farmer. 'Dennis' was a city commuter, married to 'Peggy' and another regular visitor to Jim's Inn was played by Victor Platt.
Roma Cresswell recalls: "We went out LIVE for the first few years, which was terrifying. There was a huge glass ashtray on the bar under which we sometimes put difficult to remember parts of our scripts! We had very little rehearsal, and if I remember correctly, only got the scripts at first run-through. Towards the end of our stint, we began to be recorded - in colour, and networked, too. Sadly there are no recordings of Jim's Inn left at all."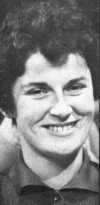 'Jim's Inn' gained such popularity that an LP record was produced for the fans of the programme called "Singalong at Jim's Inn", it featured the whole cast singing old-time favourites.
All the above pictures and information are courtesy of Jill Holroyd in conjunction with Maggie Hanley and Roma Cresswell.
Other Admags: 'About Homes and Gardens' (1956) featured Noele Gordon; 'Where Shall We Go?' (1956) with Peter Butterworth and Janet Brown and 'Over the Hills' (1956-57) dealt with holiday planning; 'What's in Store' (1956) helped viewers with their Christmas gift buying; 'What's New' (1957) had the latest ideas in furnishing; whilst John 'Slater's Bazaar' (1957-59) appeared to present everything!.

Admag video clip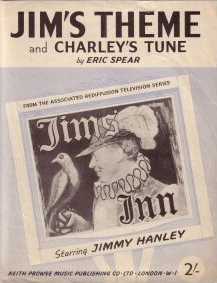 If you have any comments or further information of interest, please e-mail webmaster@whirligig-tv.co.uk