Home > Adults' Programmes > International Detective
International Detective (1959-60)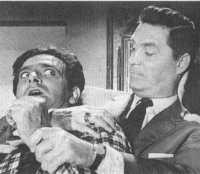 Starred Arthur Fleming as Agent Ken Franklin (right, above) in cases from 'The William J. Burns International Detective Agency' in New York.
Each story began with Ken Franklin being given his latest assignment by William J. Burns. Apart from the top of his head and his hand 'Burns' himself was never actually seen. While this was taking place an off-screen announcer told us that 'Though these stories are based on real cases from the secret files of the W. J. B. Detective agency, the names of clients and locations have been changed to protect their privacy". Produced in documentary style, the series was one of the best of its genre.

Theme Tune
Music by Edward Astley and Harry Roth. 'International Detective' theme music by Le Roy Holmes
Made by Delfry Productions for ABC Television. Executive producer A.Edward Sutherland, produced by Gordon L. T. Scott, associate producer Jeremy Summers and story editor Guy Morgan.

If you have any comments or further information of interest, please e-mail webmaster@whirligig-tv.co.uk