Home > Adults' Programmes > Television from France
Television crosses the Channel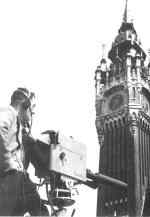 At 9.30 pm on 27th August 1950 the television announcer at Alexandra Palace was able to say:

"On August 28th 1850 the first telegram was sent from England to France by means of a cable laid across the Straights of Dover. Tonight - in a very few minutes - television pictures transmitted to Alexandra Palace from one of our mobile outside broadcast units at this moment in Calais will not only mark the centenary of that historic achievement of the last century, but herald in a new and important era in international communication"

The BBC televised a 60-minute outside broadcast as, for the first time in history, a programme was transmitted across the Channel, and viewers saw the floodlit Calais Town Hall, with a torchlight procession, dancing in the square and a firework display. Richard Dimbleby and Alan Adair gave commentaries on the festivities. Three days later a children's programme from France was broadcast and soon it was to be a whole week of collaboration with the French Television Service called "La Grande Semaine". Visits to the Louvre, a trip on a Bateau Mouche on the Seine, and a mannequin show interspersed with top French artists like Jean Sablon.

Richard Dimbleby live from Calais

If you have any comments or further information of interest, please e-mail webmaster@whirligig-tv.co.uk