Home > Adults' Programmes > Emergency Ward 10
Emergency Ward 10 (1957-67)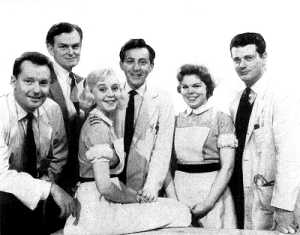 (left to right) Charles Tingwell, John Barron, Jill Browne, Frederick Bartman, Margo Andrew and Richard Thorpe.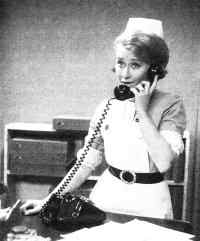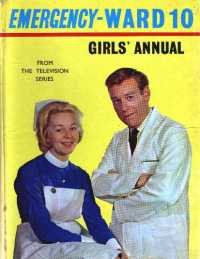 Starred Rosemary Miller as Nurse Pat Roberts, Jill Browne as Nurse Carole Young, Elizabeth Kentish as Sister Cowley, Charles Tingwell as Australian House Surgeon Alan Dawson, Desmond Carrington as Dr. Chris Anderson, John Carlisle as Dr. Lester Large, Richard Thorpe as Dr. Rennie, Glyn Owen as Patrick O'Meara, Ray Barrett as Dr. Don Nolan and John Paul as RSO Hughes. Enid Lindsay played the Matron.

Britain's first twice-weekly serial was a drama about the staff of bustling fictional Oxbridge General Hospital, in particular those who worked behind the white swing-doors of Ward 10.

Other stars who played parts in the series were, John Alderton, Joanna Lumley, Ian Hendry, Dandy Nicholls, Paul Darrow, Albert Finney, Bill Owen and Frederick Bartman.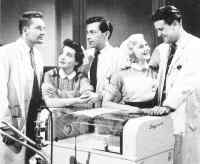 The series was created by Tessa Diamond later aided by Rachel Grieves and Hazel Adair (previously writer of Mrs. Dales's Diary and later co-creator of Crossroads with Peter Ling).

If you have any comments or further information of interest, please e-mail webmaster@whirligig-tv.co.uk