Home > Adults' Programmes > Dial 999
Dial 999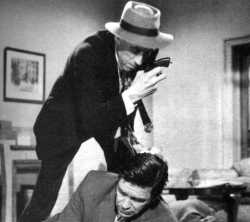 Inspector Mike Maguire (Robert Beatty) was sent to London by the Royal Canadian Mounted Police to study advanced crime detection techniques. He was awarded the rank of acting Detective Inspector and was assisted in his investigations by DI Winter (Duncan Lamont) and Det. Sgt. West (John Witty).
The stories were fairly rough and rugged, with plots that suggested that it took a clenched-fist Canadian copper to clean up London's underworld.
The series was made in conjunction with Scotland Yard and involved much location filming around London and at Elstree Studios.

If you have any comments or further information of interest, please e-mail webmaster@whirligig-tv.co.uk