Home > Adults' Programmes > Armchair Theatre
Armchair Theatre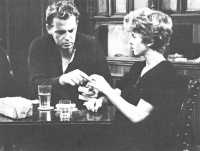 Scene from 'No Trams to Lime Street' starring Jack Hedley and Billie Whitelaw
In 1958 ABC appointed former head of drama at the Canadian Broadcasting Corporation, Sydney Newman, to run its Armchair Theatre. He believed that television plays in Britain ought to reflect the nation's social changes. His productions for Armchair Theatre 'were going to be about the very people who owned TV sets - which is the working class'. Armchair Theatre was transmitted on Sundays - in direct competition with the BBC's traditional Sunday night play - and the contrast between the two soon became apparent. The BBC's plays were, for the most part, 'safe' and conventional, while ABC was using some of Britain's most promising young directors - Philip Saville, Wilfred Eades, Ted Kotcheff- on plays by writers such as Harold Pinter and Alun Owen, who proved that serious drama could attract a mass audience: between the autumn of 1959 and the summer of 1960, for instance, Armchair Theatre was among the top ten programmes in the ratings for thirty-two weeks out of thirty-seven.
The long running series of live and taped drama represented the golden age of writing and production. Among the many powerful plays presented in the famous Sunday evening slot in the 1950s were Ted Willis's 'Hot Summer Night' (1/2/59), Alun Owen's 'No Trams to Lime Street' which starred Jack Hedley and Billie Whitelaw (1959) and F.Scott Fitzgerald's 'The Last Tycoon' (27/12/59), adapted by Dom Manciewicz.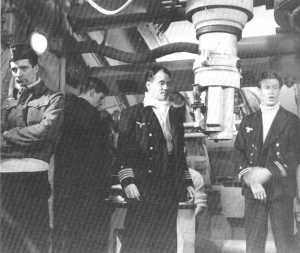 'Wolf Pack' (13/4/58) featured Ian Bannen (above, centre) in a taut submarine drama about a captured German U-boat manned by British sailors in German uniform who are hunted by both enemy and Allied forces. Richard Gale, David Davies, Anthony Wager, and William Fox co-starred.

Introduction

If you have any comments or further information of interest, please e-mail webmaster@whirligig-tv.co.uk