Home > Adults' Programmes > Dixon of Dock Green
Dixon of Dock Green (1955-76)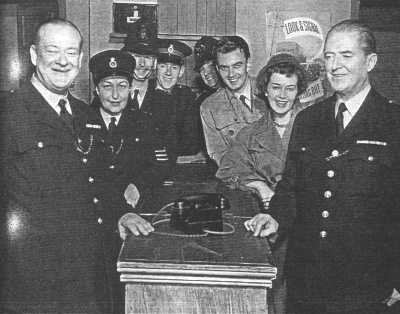 Left to right, Arthur Rigby (Sergeant Flint), Moira Mannion (Sergeant Grace Millard), Geoffrey Adams (PC Lauderdale), David Webster (Cadet Jamie MacPherson). Graham Ashley (PC Hughes), Peter Byrne (Andy Crawford, CID), Jeannette Hutchinson (Mary Crawford), and Jack Warner (PC George Dixon)
"Good Evening All!" - PC George Dixon (Jack Warner) was the first British copper to tread the TV beat and, running for twenty-one years, the longest lasting. The emphasis in the series, which was reassuringly cosy and quaint even in the fifties, was on small, everyday human experiences, not major-league crime and sensationalism, with Dixon a benevolent father figure to the local community. No matter what the crime, each episode ended with a summation and a homily from Dixon standing outside the station.

Theme tune "An Ordinary Copper" (played by Tommy Riley)
The brainchild of Ted Willis, Dixon still ranks as the longest running police series on British Television having notched up some 367 episodes.

Arthur Rigby played Sergeant Flint, Peter Byrne was PC Andy Crawford (later promoted to Sergeant). Mary, Dixon's daughter, was played originally by Billie Whitelaw.

Pictured are (l. to r.) Warner, Rigby, Moira Mannion (as Sergeant Grace Millard), Byrne and Jeannette Hutchinson as Mary.

If you have any comments or further information of interest, please e-mail webmaster@whirligig-tv.co.uk