Home > Adults' Programmes > The Phil Silvers Show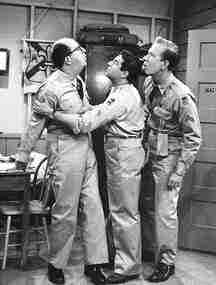 A classic situation comedy series featuring Phil Silvers as the fast-talking money-hungry Master Sergeant Ernie Bilko who was continually looking to make a fast buck, either from his less-than-bright Motor Pool platoon or the cautious residents of nearby Roseville, Kansas. (Bilko was stationed at the fictitious Fort Baxter, Kansas; later at Camp Fremont, California).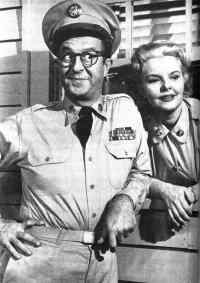 Bilko's accomplices were usually Corporals Rocco Barbella (Harvey Lembeck) and Henshaw (Allan Melvin). Also appearing were Herbie Faye as Private Sam Fender, Maurice Gosfield as Private Duane Doberman and Paul Ford as Colonel John Hall.
With little to do in the wilds of middle America, Bilko was incurably occupied in get-rich quick schemes, spending most of his time gambling, conjuring up scams and out-manoeuvring his unfortunate and all too trusting commanding officer, the hapless Colonel Hall.
The Bilko character later turned up as a cartoon cat in Hanna-Barbera's Top Cat.
The series was created by Nat Hiken, who also found success in the 1960's with Car 54, Where are you?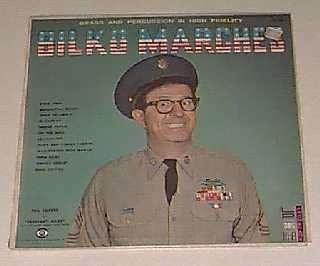 If you have any comments or further information of interest, please e-mail webmaster@whirligig-tv.co.uk