Home > Adults' Programmes > The Army Game
The Army Game (1957-61)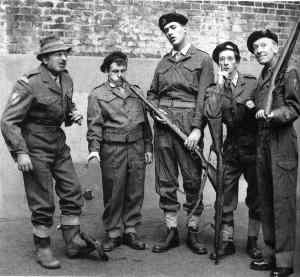 A highly popular ITV series of the late 50's about a gang of peacetime soldiers in constant pursuit of easy money and ways of outwitting their fiery Sergeant-Major. Based at Hut 29 of the Surplus Ordnance Depot at Nether Hopping, the original bunch of privates consisted of Pte. 'Bootsie (Excused Boots)' Bisley (played by Alfie Bass), Pte. 'Professor' Hatchett (Charles Hawtrey, 2nd. right), Pte. 'Cupcake' Cook (Norman Rossington, 2nd. left), and Pte. 'Popeye' Popplewell (Bernard Bresslaw, centre, who soon became a national favourite with his 'I only arsked' catchline). Cpl. Springer (Michael Medwin) was their Bilko-like ring leader. Sgt.-Maj. Bullimore (William Hartnell, right) their regular taskmaster, and the scatterbrained Major Upshot-Bagley (Geoffrey Sumner, left) the camp commandant. The Sergeant-Major was always giving them activities to get out of his way, from office cleaning to kitchen duty, and these activities were part of the plotlines.
Later recruits included Corporal 'Flogger' Hoskins (Harry Fowler), Lance Corporal Ernest 'Moosh' Merryweather (Mario Fabrizi), Private Leonard Bone (Ted Lune), Private Dooley (Harry Towb), Private Billy Baker (Robert Desmond) and Private 'Chubby' Catchpole (Dick Emery).
Other officers were Captain Pilsworthy (Bernard Hunter), Captain Pocket (Frank Williams) and Major Geoffrey Gervaise Duckworth (C B Poultney).
Bill Frazer (as CSM Claude Snudge) replaced Hartnell for the 1958-60 series prior to embarking on the spin-off 'Bootsie and Snudge'.
Co-writers for the series were: Sid Colin, Lew Schwarz, Larry Stephens, Maurice Wiltshire, Marty Feldman, Barry Took, David Cumming and Derek Collyer.
The Army Game board game from 1959
More Information can be found at: The British TV Comedy Database site.

If you have any comments or further information of interest, please e-mail webmaster@whirligig-tv.co.uk