Woman's Hour
A forerunner to Woman's Hour began in London on May 2nd. 1923, when HRH Princess Alice delivered the first Afternoon Talk for women. This was the day after the Savoy studio was opened and Lord Birkenhead inaugurated "Men's Hour" at 10pm. which had only a short life. From March 24th. 1924 the title Woman's Hour was dropped and the two talks from 4 to 4.30pm were incorporated in the afternoon concert.
Woman's Hour, as we know it now, was first broadcast on 7th. October 1946 and was presented by Alan Ivimey. It was conceived as offering helpful advice to women in the one hour they were presumed to have to themselves - 2 pm to 3 pm, while doing the washing up. It was to deal with "keeping house, health, children, beauty care and home furnishing".
The first programme (which opened with the signature tune "Oranges and Lemons") contained a talk on "Mother's Midday Meal", followed by tips on "Putting your Best Face Forward". Other early programmes offered hints on how to catch mice and bleach blackout material.
Soon Woman's Hour was receiving a thousand letters a week, asking for advice on such matters as children's feeding, shyness and menstrual problems. It developed as a forum for the voices and views of its listeners, gaining a reputation as a "sisterhood of the airwaves" and a lifeline to those who were housebound.
The programme would go on to celebrate, educate, inform and entertain generations of women, and quickly became a national institution.
Norman Collins created the programme as a "daily programme of music, advice and entertainment for the home". Early items ranged from the instructive and entertaining (including a guide to knitting your own stair carpet!), to controversial social and educational issues. The programme was the first to tackle subjects such the menopause (in 1947), cancer (1950) and contraception (1962). The early broadcasts were mostly live.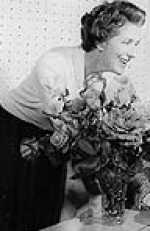 Jean Metcalfe (above), who presented the programme between 1950 and 1958, described how guests would arrive in time for lunch, often wearing their hats in the studio. She made a speciality of interviewing the stars in their homes - among them Vera Lynn, Frankie Vaughan, Kenneth More and Spike Milligan.
Marjorie Anderson (left) was another Woman's Hour presenter in the late 1950s'
The programme's signature tune was the Overture to "The Merry Wives of Windsor" by Nicolai.
The BBC's official Woman's Hour pages

If you have any comments, questions or further information of interest, please e-mail:
radiodays@whirligig-tv.co.uk