Take It From Here (1948-58)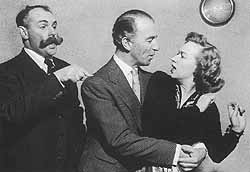 In 1947, Frank Muir was writing for Joy Nichols and Jimmy Edwards, while Denis Norden was writing material for Dick Bentley. Putting all three stars together naturally enough brought Frank and Denis together. They were soon writing Take It From Here, which began transmission on 23 March 1948, and produced more than 300 programmes, one of the most successful series of its kind lasting 12 years.
The first season included cast members Maurice Denham and Clarence Wright. The setting was a commercial radio station and included a character called Major Network. The season had only modest listening figures and was threatened with cancellation, but Charles Maxwell, the producer, had faith in his team and argued with Michael Standing (the Head of Variety Department) to give the show another chance.
During the break, Denis and Frank found another cast member, Wallas Eaton, to be the "odd-voice character". The format was changed in the second season to include a brief opening which included topical banter, a song from Johnny Johnson's harmony group, The Keynotes - originally named The Harmony Heralds. The next spot was a gimmick sketch, such as the operatic weather forecast "The mercury's sunk to the figure 0. Figure 0? Figure 0 figure 0 feeeeger 0!" The next part was a song from Joy or Dick and the final section was the parody of popular books, films or plays. Frank was especially pleased with these sketches because they credited the audience with a degree of intelligence.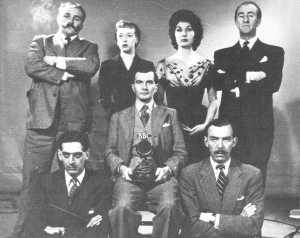 Charles Maxwell, the producer, holds the microphone in a heavily posed publicity photograph with Denis Norden and Frank Muir (front row), with the stars, Jimmy Edwards,June Whitfield,Alma Cogan and Dick Bentley
Many TIFH lines ended up on film, courtesy of the Carry On films. Colleague Talbot Rothwell ran out of time for a script, so Frank and Denis handed over some early TIFH scripts. Some famous Carry On lines are actually TIFH gags, including Dick Bentley as Caesar, attacked by Brutus, crying "Oh Infamy! Infamy! They've all got it in for me!"
Joy Nichols married American baritone Wally Peterson and went to the States. It took two people to replace her, Alma Cogan to sing and June Whitfield, who narrowly edged out Prunella Scales, to act.
In the early 1950s TIFH hit the stratosphere with the introduction of The Glums. Mr. Glum, a loudmouthed boor (Jimmy Edwards) presided over a household consisting of his ever-absent wife, his son Ron, who was not even one degree removed from utter idiocy, and was played with sublime incoherence by Dick Bentley , and Ron's fiancée Eth (June Whitfield, a magnificent radio comédienne) whose famous catch-phrase was a plaintive Oh Ron! Each week, poor Eth was foiled in her attempts to rise to a richer and happier life by the utter opacity of Ron (Give us a kiss, Eth!), and the cupidity of his father. Time after time, just as she seemed to have coaxed Ron into some more or less gallant display of wooden affection, Mr. Glum would burst in with his 'Ullo, Ullo, Ullo ...?' as though seduction was imminent - when it was all too plain that Ron only recognised one end of poor Eth from the other because it had feet on it.
When Mr. Glum shouted out "MUVVA!" and back came the almost unintelligible "WHADDAYOUWANT?", the voice was in fact provided by the well-loved and late-lamented Alma Cogan, who was also the resident singer. Mrs. Glum however never actually took a character role in the programme
The series also included such revolting gems as:
Mr. Glum: "Ron, run upstairs and fetch me your mother's toothbrush ? I've got my new suede shoes on and I've trodden in something".
The new series of Take It From Here continued until 1958, when Whack-O! - starring Jimmy Edwards - started on television.
More TIFH information including episode guide
Sheet Music featured in the famous 1950's BBC Radio Series Take It From Here. The song is "Little Red Monkey" with words and music by Stephen Gale & Jack Jordan. Cover features programme stars Jimmy Edwards, Dick Bentley and Joy Nicholls. Published in the UK by Robbins Music in the 1950s.

<---------- Click on the cover to hear it.

If you have any comments, questions or further information of interest, please e-mail:
radiodays@whirligig-tv.co.uk