Mrs. Dale's Diary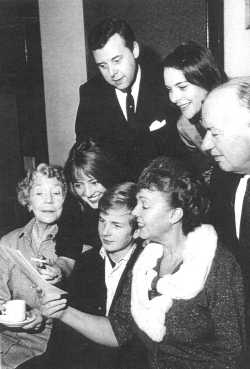 The first post-war soap on British radio was Mrs. Dale's Diary and was first broadcast on the Light Programme at 4pm on Monday 5th. January 1948. Who could forget Marie Goossens' harp introduction to the programme or the reflective comments of Dr. Dale's ever-earnest wife?
The title character was a nice middle-class doctor's wife, Mary, and her husband Jim who lived at Virginia Lodge in the Middlesex suburb of Parkwood Hill.
They had a son called Bob played by Nicholas Parsons, Hugh Latimer, Derek Hart, and by Leslie Heritage for nearly twenty years. and a daughter called Gwen who was successively Virginia Hewitt, Joan Newell, Beryl Calder and (for many years) Aline Waites. Bob was married to Jenny and they had twins. Gwen was married to her, not always faithful, husband David who was Jenny's brother but was eventually left a widow when David was killed water skiing in the Bahamas whilst holidaying with his rich mistress. Derek Nimmo was brought in at this time to play Jago Peters a boyfriend for Gwen.
Mrs. Dale's sophisticated sister, Sally, (always pronounced "Selly") lived in Cheyne Walk, Chelsea, and ran a dress shop and also had a country cottage with a housekeeper called Zenobia.
There was also a char lady called Mrs. Morgan (played by Grace Allardyce) who subsequently married Mr. Maggs (played by Jack Howarth).
The neighbour across the road, the grumpy Mrs Mountford (played by Vivienne Chatterton) had a nervous companion called Miss Marchbanks and a parrot called Coco along with a liking for chocolate cake.
An occasional character was Mrs. Leathers who was a Cockney and rather common (played by Hattie Jaques). Mrs. Freeman (or Mother-in-Law as Dr. Dale always used to call her) had a cat named Captain (always pronounced "Kepton").
The milkman was played by Michael Harding.
Eventually the stories were relocated to a town called Exton and the cast had to roughen up the famous cut glass vowels and become a different kind of family. Gwen became a mature student and the characters started to have a social conscience.
The Queen Mother reportedly commented about the programme, 'It is the only way of knowing what goes on in a middle-class family'. Radio comics loved to spoof the programme, using the soul-searching comment, "I'm awfully worried about Jim" as allegedly uttered by the indefatigable diarist.
The final episode, in 1969, featured Gwen's engagement to a glamorous TV professor played by John Justin.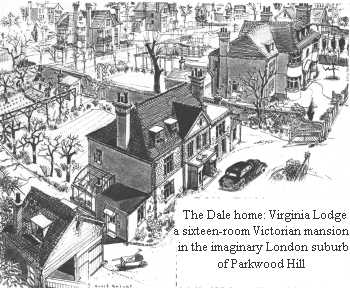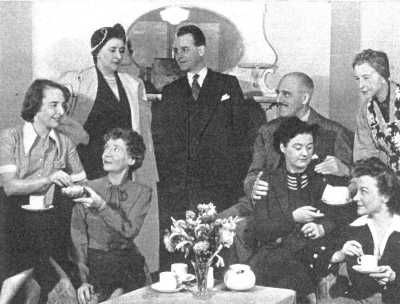 A 1952 publicity picture of the cast: Dr. Dale (Douglas Burbidge) with his hands on the shoulders of Mrs. Dale (Ellis Powell). The other characters are daughter Gwen (Joan Newell) sitting far left; Mrs. Freeman (Dorothy Lane) seated second left; Isabel Fielding (Thea Wells) standing; son Bob (Derek Hart) centre; and daily help Mrs. Morgan (Grace Allardyce) standing far right. Mrs. Dale's sister, Sally Lane (Thelma Hughes) is seated bottom right.
Main Cast List:
Mrs. Dale: Ellis Powell, Jessie Matthews
Dr Dale: Douglas Burbidge, James Dale (honestly!), Charles Simon
Bob Dale: Hugh Latimer, Leslie Heritage, Nicholas Parsons, Derek Hart
Jenny Dale: Julia Braddock, Shirley Dixon, Mary Steele, Sheila Sweet
Gwen Dale/Owen: Virginia Hewitt, Joan Newell, Beryl Calder, Aline Waites
David Owen: Anthony James, Frank Partington, Gordon Morrison, John Spingett, Robin Lloyd, Lee Peters
Mrs. Freeman (Mrs. Dale's Mother): Courtney Hope, Dorothy Lane
Sally Lane (Mrs. Dale's sister): Thelma Hughes, Margaret Ward
Isobelle Fielding: Thea Wells
Mrs. Mountford: Vivienne Chatterton
Mr. Maggs: Jack Howarth (later to become Albert Tatlock in Coronation Street)
Mrs. Morgan / Maggs: Grace Allardyce
Mrs. Leathers: Hattie Jaques
Monument (the gardener): Charles Lamb
Milkman: Michael Harding
Scriptwriter was Jonquil Anthony
The soap ran from January 1948 until April 1969, by which time it had been renamed 'The Dales'. A total run of 5531 episodes.
In the mid-'60s, the theme was updated by Ron Grainer. Here are clips of the beginning and ending music:
| | |
| --- | --- |
| Aline Waites (1969) | With grateful thanks to Aline Waites who played Gwen and has filled in a lot of the blanks about the programme for us and supplied the pictures for this page. |
---
Phillip McCaughan writes:
I have a few vague recollections of "Mrs. Dale's Diary"; endless stream of 'cut-glass' accents and much drinking of tea. My memories of "The Dales" being much clearer. We lived opposite my school so I was always home by the time it came on, all I need is a cup of tea and a couple of digestives and memories trickle back. I do remember Mrs. Dale's brother-in-law confiding in her that he was homosexual (shriek); Mrs. Dale in court on a charge of dangerous driving and causing death; Dr Dale's heart attack and the various travails of Bob and Jenny. They had shifted the action by then to a new town in the Home Counties, presumably in an attempt to de-posh it.
Mrs. Dale was played by Ellis Powell from 1948 until 1963 when Jessie Matthews stepped in. Interestingly, during Miss Matthews' reign, she had two protracted periods of ill-health, and she was replaced (temporarily) by two erstwhile soap matriarchs: Noel Dyson (Ida Barlow – Coronation Street) and later on, Ruth Dunning (Mrs. Grove – The Grove Family).
Strange how little pride the BBC appears to have in its past successes, considering its huge audience and length of run, it seems to be totally forgotten. In its small way, it played a part in bridging the post-war days of Britain and the 60s revolution. Wouldn't it be nice if the BBC deigned to issue a double audio pack of selected episodes (there MUST be some in existence)?
---
Dear Radio Days,

"ON THE RECORD"

I was fascinated to find the data on the Mrs Dale serial. I took a very systematic interest, and five years ago I produced Charles Simon's play "At Home With The Dales" for a studio theatre in Essex. Charles died a few months ago, working to the end, at 93. I also knew James Dale and Dorothy Lane.

I can amplify your cast list. It is hard to distinguish meaningfully between regular cast members, and temporary recasting, as I believe everyone, except the current Dr & Mrs Dale and Mrs Freeman, was on freelance contracts, engaged by the episode. That is why, in 1960, Leslie Heritage was able to do a TV series with Vic Oliver, and play Bob when available. Roy Hawksworth deputised.

But to try to stick to main players and ignore 'stand-in's (of which there were many), Mrs Dale and Dr Dale were played as you say. Bob was played successively by Nicholas Parsons, Hugh Latimer, Derek Hart and Leslie Heritage, the last for twenty years. Nicholas Parsons and Derek Hart both became better known for other forms of appearance than as actors. And some of the 'stand-in' casting was amazing. Robin Lloyd, the David I remember first, had, before taking over that part, done a split week with Leslie Heritage as Bob!

Gwen was successively Virginia Hewitt, Joan Newell, Beryl Calder and (for many years) Aline Waites. Aline Waites became active in putting on fringe theatre. Jenny was played very distinctively as a spoiled actressy brat by Julia Braddock. She was rethought as a character, and became a hard-working mum played by Mary Steele (a lovely performance), then by Shirley Dixon.

Mrs Freeman was, as you say, Courtney Hope, who left to make a film after eighteen months, and then Dorothy for the next twenty years. Sally was Thelma Hughes, Alvys Maben, Thelma Hughes again, Marjorie Mars semi-permanently (?), and finally Margaret Ward, a beautiful speaking voice, and the only Sally I heard on the air.

Certain characters got through lots of players, no doubt for a variety of reasons. I make it fourteen Jennys, counting every one I know, followed by thirteen Billys (Gwen's son), then ten Bobs and nine Davids.

I don't think many episodes were kept. There's bound to be lots I don't know, and would love to communicate with anyone with information or interest.

ROGER SANSOM
rogersansom@hotmail.com

Addendum: December 2004

I was very sorry to learn of the death of Margaret Ward. She played the title character's glamorous sister in 'Mrs Dale's Diary' (which became 'The Dales' while she was in it) for more than half of the serial's twenty-one year run. (She was indeed the second actress to have a long run in the part, and hers was the longest - the casting of daily serials was always complicated.) I personally never heard anyone else play the character - which I always regarded as a Princess Margaret to the Queen of Mrs Dale - in the serial. I never met her, and only saw her in person as Mrs Eynsford-Hill in 'Pygmalion' in London in the seventies. That production survives as an audio recording.

I know little about her as a person, but something about her radio and TV work. In the early fifties she was with the BBC Drama Repertory Company, and I wonder if she might have developed more as a leading actress in radio if she had not accepted the long-running part. She had leads in Anouilh's 'Colombe' and in 'The Plain Dealer' on the Third Programme, and played Sherlock Holmes's nemesis Irene Adler in 'A Scandal In Bohemia' with John Gielgud and Ralph Richardson. The episode exists as a commercial recording.

While playing the charming and rather unpredictable Sally on radio, she appeared from time to time on television, usually in somewhat less glamorous roles, such as the one she played in a reconstruction of a the famous nineteenth century murder of Charles Bravo. In later years she played an executive wife in the corporation series 'The Troubleshooters'. She once had a 'bored wife' speech which referred to listening to 'The Dales' - no doubt a personalised reference! In the late eighties, she rejoined the BBC Rep - now the Radio Drama Company - for a spell, playing older parts.

Dorothy Lane, who played the mother of Mrs Dale and Sally, told me that they heard over their Christmas break one year that Margaret Ward's husband had died. She said how pleased they were that Margaret later married Richard Hurndall, another actor who was busy in radio. She described it as a very popular marriage. She also remembered Margaret's schoolboy son doing his homework in the studio while they worked on 'The Dales'.

ROGER SANSOM
rogersansom@hotmail.com

Addendum: February 2007

THE DALES AND THE WIDER WORLD

Like everything else, the serial story of Mrs Dale and her family was not broadcast in isolation. There are connections of every kind to a wider world. Not least in the many and various ways parts are cast. Actors' lives are much affected by association of ideas - the most obvious example here being James Dale playing his namesake the Doctor. And one week Stuart Nichol shared the part of Alec (Jim's brother) with his almost namesake-in-reverse Nicholas Stuart.

You can see causes and effects, too, between the serial and the casting of other shows. The name of Jonquil Antony - the most significant writer of the Dales - appears in the cast of "Henry VIII" at the Open Air Theatre in London before the War (Vivien Leigh was Anne Boleyn), along with that of Kenneth Evans who was to play Gwen and Bob's Welsh father-in-law, and several other future radio names. A couple of years after The Dales, a Saturday Night Theatre production of "Dear Octopus", another family saga, contained such a concentration of key members of the Dales cast, the effect was rather odd.

Then there are the personal connections between people. At one point Margaret Ward as Sally (Mrs Dale's sister) seemed to be be risking her marriage by her friendship with Martin Harvill, played by Richard Hurndall. Thus the actress was - as Wilde would say - flirting with her own husband.

The other Saturday (I write in early 2007) one of the BBC's Saturday Night archive programmes dealt with homosexuality and broadcasting. This put me on to a fascinating book about gayness on radio and TV - "Broadcasting It" by Keith Howes. From the programme and the book I learned that the character of Sally's husband Richard Fulton was based by Jonquil Antony on Patrick White the Australian writer. Richard was "out-ed" in the later years of the serial, and what I recall from that time (bearing in mind that no-one hears every episode) was that Richard's character didn't seem very consistent. He had been in love with Sally for years before she accepted him, and when married to her he also had a dangerous friendship with a member of the opposite sex. If the story was "Richard misjudged his potential as a husband" - okay. But just saying "Richard's a homosexual, Jim" didn't seem to me very true to the programme's history. You felt "Gayness is becoming a hot topic, so who shall it be?"

The archive programme, and Keith Howes' book, looked at it differently. The suggestion is that Richard was written as homosexual at the start - and as his inspiration in life was gay there is obviously a lot in this. When young I would be quite capable of missing hints that Richard had been considered 'not the marrying kind'. I don't think I am wrong, nevertheless. My points about consistency remain. And it is clear that 'Mr Fulton' as played by Norman Chidgey was somewhat different from brother-in-law Richard, the character played by David March, which is the version I knew. In one of her Dales books, Jonquil Antony makes this distinction between 'Mr Fulton' and 'Richard' when discussing his complex character.
The programme was firmly democratised in the '60s and Richard Fulton, as well as losing his manservant, lost much of his petulance and autocratic ways. Listening in recordings from the '50s to the older-sounding Richard of Norman Chidgey, I can get some idea of how the character derived from the highly idiosyncratic Patrick White.

ROGER SANSOM
rogersansom@hotmail.com


If you have any comments, questions or further information of interest, please e-mail:
radiodays@whirligig-tv.co.uk