Ignorance is Bliss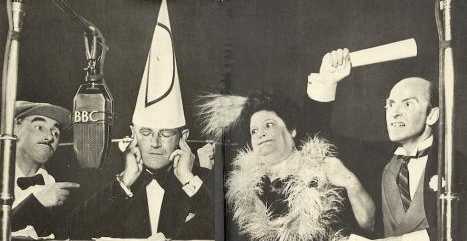 Harold Berens, Stewart MacPherson, Gladys Hay and Michael Moore
The crazy answer to the Quiz Game craze:
Where Ignorance is Bliss,
Tis folly to be wise,
It's better to be ignorant like me . . .
The trial production was transmitted on 1 April 1946, a good choice: 'Tonight of all nights four hand-picked halfwits propose to prove it! Introducing a band of experts who are anxious to get ahead because they think it would be nice to have one! Dr Nitwit and his Philmoronics provide tumult when the shouting dies!' Gordon Crier produced 'by arrangement with Maurice Winnick' It was adapted from a successful American radio series called It Pays To Be Ignorant.
The series proper began on 26 July with Stewart MacPherson the fast-talking Canadian sports commentator as question-master. Harold Berens was the cockney ignoramus ('What a geezer!'), Michael Moore the monocled upper-class twit ('I have a poem, Mr MacPherson!'), and Gladys Hay the fat lady ('Oh, he's nice, isn't he! What's your first name, ducks?') who provided the regular routine: 'Now we're back to Miss Hay again!'. Sid Millward and his Nitwits 'provide the tumult when the shouting dies'. Sid Colin was the scriptwriter. Professor (later Doctor) Crock and his Crackpots replaced the Nitwits from lo March 1947, founding a successful stage career, and yet another musical ensemble took over from 7 July 1947: the New Foulharmonic Orchestra conducted by Mynheer Hal Evans. When the series returned on 15 March 1948, 'musical indiscretions' were supplied by the Welsh double-act, Albert and Les Ward.
The new series beginning 23 November 1948 replaced the Wards with the Radio Revellers, and another new series beginning 6 May 1949 replaced the Revellers with the Soupstains. A major change occurred in the series starting 27 February 1950: MacPherson, returning to Canada, was replaced by Dublin sports commentator, Eamonn Andrews. The Dixielanders played the music, and the new writer was Ronnie Hanbury. The series commencing 19 August 1953 had another new questionmaster, Patrick Burns, a sports commentator from Canada. Another nitwit joined the team, Richard Gray as Harold Berens' brother from the audience. The music was back with Sid Millward's Nitwits and George Wadmore helped Hanbury on the scripts.

Ignorance Is Bliss clip

If you have any comments, questions or further information of interest, please e-mail:
radiodays@whirligig-tv.co.uk