Dick Barton, Special Agent (1946-51)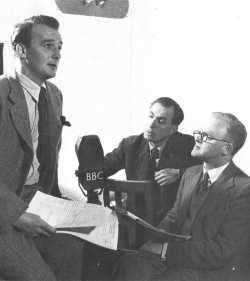 Noel Johnson (left) played Barton, with Alex McCrindle and John Mann as his stalwart henchmen, Jock and Snowey
The beloved star of the BBC's first daily radio serial, private investigator and sometime special agent Dick Barton appeared in 711 episodes between 1946 and 1951 on the Light Programme beginning at 6.45 pm on Monday, 7 October 1946. With his two best mates by his side, Jock Anderson and Snowey White, and a slew of crime-busting gadgets that would make Dick Tracy envious, Dick managed to get into (and eventually out of) some pretty tight spots, much to the delight of thousands, not to mention the stern disapproval of various "educationalists and clergymen." And all that disapproval despite the scriptwriters strict adherence to 13 codes of conduct, such as: no sex, no booze, no bad language and all violence must be limited to "clean socks on the jaw."
Nevertheless, the radio show was a huge success, and the former Captain Richard Barton of the Commandos became a national hero, right up there with Churchill. In post-war Britain, the fast-paced, tongue-in-cheek adventures were exactly what the doctor ordered. At his peak, over 15 million listeners tuned in to his adventures, broadcast in the early evening, right after the news.
Dick's Girlfriend (all too soon to be written out of the series for ever!) was Jean Hunter, played by Lorna Dermott, and the current villain, Manoel Garcia, was played by Brian Worth. The announcer who rapped out 'Dick Barton...Special Agent!' was Hamilton Humphries.
Although Geoffrey Webb and Edward J. Mason wrote the radio scripts, Barton was actually created by BBC producer Norman Collins, who had visions of a "cloak and dagger soap opera" every evening. The producer was Neil Tuson.
The first series ended on 30 May 1947, but Dick was back on 6 October in a new serial. The third, 'The JB Case', started 20 September 1948. The serial beginning 26 September 1949 introduced a new Dick Barton, Duncan Carse, a real-life adventurer and oceanographer. The announcer was changed, too: John Fitchen.
Another Dick, Gordon Davies, took over from 3 October 1950, with a new producer, Archie Campbell. The final episode was broadcast on 30 March 1951. There was a two-week, 10 part revival for the BBC's Jubilee, starting 6 November 1972. Noel Johnson and John Mann were back - in stereo!.
Starring Noel Johnson as Dick Barton
(later replaced by Duncan Carse and Gordon Davis)
with Alex McCrindle as Jock
and John Mann as Snowey

clip from the BBC's Jubilee 1972 remade series
The signature tune was "The Devil's Galop" composed by Charles Williams and is available on CD here

Signature Tune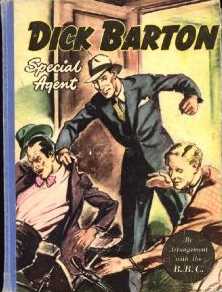 1950s hardback book published by arrangement with the BBC to compliment the radio series
---
The Daring Dexters : A daily serial replaced Dick Barton after the first series ended from 2 June 1947. This thriller serial of the circus featured Granville Eves as Dan Dexter, ex-high-wire performer and boss of Dexter's Grand Circus. Bill, his son, was played by James Viccars, and Sherry, his wire-walking daughter, by Olive Kirby. Beppo, the philosophical white-faced clown, was Franklyn Bellamy, and Tangey, the red-headed he-man Edward Percival. There was also a character called Old Meg who worked at the Pay Desk, a malevolent, vicious old woman whose sole aim was to set family members against each other and who eventually resorted to violence at least once to get her way - cutting the trapeze ropes! Comedy relief came from the Augustes, Tony (Charles Lamb) and Gump (John Sharpe).
Frederick Allen announced. Raymond Raikes produced and Goeffrey Webb wrote the script.
There was an omnibus version every Sunday morning until the series ended on 3 October and the second series of Dick Barton began.


The signature tune was called "London Playhouse".

If you have any comments, questions or further information of interest, please e-mail:
radiodays@whirligig-tv.co.uk