The Clitheroe Kid (1958-72)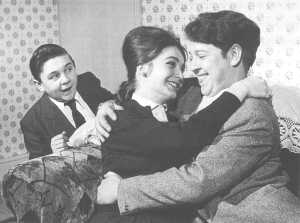 Schoolboy Jimmie played gooseberry for years with his elder sister Susan and her boyfriend Alfie Hall. Here Diana Day plays Susan and Danny Ross is Alfie
The Clitheroe Kid was Jimmy Clitheroe who, by some strange coincidence, did come from the town of that name without having to change his family name! He played the naughty schoolboy for a total of 17 series. Peter Sinclair played his Scottish grandad, Patricia Burke and Renee Houston, his mother and Diana Day and Judith Chalmers his long-suffering elder sister Susan. Tony Melody played Mr Higginbottom.
The scripts were generally written by James Casey and Frank Roscoe, with the shows production by James Casey.
Other members of the cast, over the years, consisted of Eddie Leslie, Rosalie Williams, Fred Fairclough, Brian Truman, John Broadbent, Bob Monkhouse, Jack Watson, Herbert Smith, Jack Howarth, Fred Ferris, Shirley King, Violet Carson, Tom Harrison and Patrick Wells.


The Clitheroe Kid Introduction
The Clitheroe Kid site ("Don't some mothers 'ave 'em?")
British Comedy Website with episode list

If you have any comments, questions or further information of interest, please e-mail:
radiodays@whirligig-tv.co.uk