The Brains Trust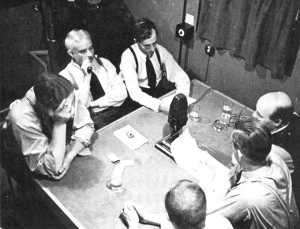 Here in 1941,Quentin Reynolds, Dr. C.E.M. Joad and Julian Huxley face, across the table, Commander A.B. Campbell, Donald McCullough, the question-master and E.N. da C. Andrade
'The Brains Trust' began on 30 December 1941. There were 27 editions in the first series (which ran until 30 June 1942), broadcast at 8.15pm to 9.00pm on Tuesdays in the Home Service and repeated on Sundays, normally at 4.00pm to 4.45pm, in the Forces Programme. After its promotion to peak time on Sunday afternoons, it was regularly heard by 29% of the population, receiving between four and five thousand letters a week. It was designed to answer listener's queries under the title 'Any Questions?' and developed into one of the most popular informational programmes ever broadcast.
Apart from the original three members of the Brain Trust's team (C.E.M. Joad, philosopher and psychologist, Julian Huxley, biologist, and Commander A.B. Campbell, a retired naval officer and anecdotalist) with their chairman Donald McCullough, others made broadcasting reputations on the programme; Sir Malcolm Sargent, the conductor was one; Kenneth Clark, Hannen Swaffer, Anna Neagle, Commander R.T Gould, Barbara Ward and the young Michael Ayrton were others. Also the great British comedian, astronomer, film star and intellectual, Will Hay made several appearances.
The programme ended in May 1949 and was transferred to BBC Television in the 1950s with the soundtrack going out on the Home Service during the following week.
A Listeners' Brains Trust programme was broadcast on 4th. January 1943 in which the BBC put its Brains Trust into reverse. For one night only, the regular Brains Trust residents were invited to send in questions and six members of the public were invisted to give their spontaneous answers.
More information here
The Anvil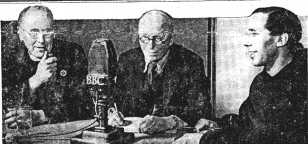 A similar programme called 'The Anvil' was broadcast and was on the air for most of the Second World War. About 4000 questions were sent in during the first series of six programmes. Under a lay chairman, Prof. Victor Murray, a panel of four (two Angicans, one Roman Catholic and one from the Free Churches) tried 'to give honest Christian answers to listener's doubts, difficulties and enquiries'.

If you have any comments, questions or further information of interest, please e-mail:
radiodays@whirligig-tv.co.uk