CD REVIEW – YO-YO MA PLAYS ENNIO MORRICONE
Yo-Yo Ma (cello)
Roma Sinfonietta Orchestra, Ennio Morricone
Sony 88697562802 (55:57)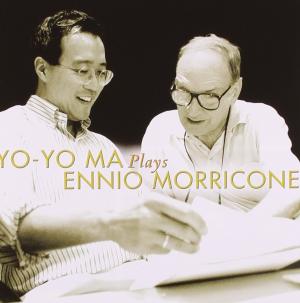 The master of "spaghetti western" movie music and much more, Ennio Morricone (born Rome 1928), was lost to us earlier this year, and for me this recently discovered album is a fitting memorial to his work that includes over 400 cinema/tv scores and more than 100 classical works, with total sales over 70 million.
The American Yo-Yo Ma, born Paris 1955 to Chinese parents, is probably the best cellist in the world today with some saying the best ever. On this release from 2004 he plays 19 tracks accompanied by the Roma Sinfonietta Orchestra – well known since 1995 for playing for the composer's live concert performances and on his film scores – conducted by Signor Morricone himself, who also re-orchestrated his music and produced it.
All the pieces come from films, beginning with the immensely popular Gabriel's Oboe from 'The Mission'. The last two tracks are from 'The Lady Caliph'. The rest are arranged in four suites: 'Moses and Marco Polo' (both made for TV) and three named after film directors Giuseppe Tornatore, including 'Cinema Paradiso'; Sergio Leone, including 'Once Upon a Time in America', 'Once Upon a Time in the West' and 'The Good, the Bad, and The Ugly' (not the main theme); and Brian de Parma, including 'The Untouchables'. There are some gorgeous tunes here.
The orchestral playing is what one would expect with the composer wielding the baton, and that of Yo-Yo Ma as marvellous as always in the forefront. Two greats for the price of one.
Although by no means a recent release – it was digitally remastered in 2009 – the disc is still widely available sensibly priced. If you are without a Morricone album in your collection and would like one in memory of him, then look no further.
© Peter Burt 2020