CD REVIEW – WAGNER – 'THE RING' WITHOUT WORDS
ORCHESTRAL HIGHLIGHTS FROM THE RING CYCLE
Berlin Philhamoniker / Lorin Mazell
Telarc CD80154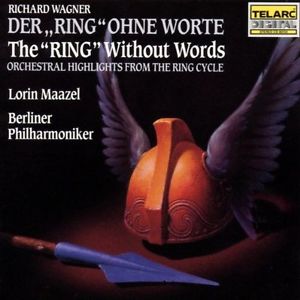 Richard Wagner (1813-83) is a "Marmite" musician – he is either loved or loathed. His works have been played at the BBC Proms more times than any other composer. Stephen Hawking reckons the composer manages to convey emotion with music better than anyone before or since, while Rossini said, "He has lovely moments but awful quarters of an hour." As a man, he excited both extravagant praise [from the Nazis] and denigration for being a virulent anti-Semite.
Wagner wrote some terrific tunes and there are those who would prefer to listen to his operatic works sans the words. This is the album for them: not a recent release like most of my classical choices here but, for me, a new discovery. Recorded in 1987, it is a 75-minute symphonic journey through Wagner's four epic operas, including all the standard orchestral excerpts such as Entry of the Gods into Valhalla, Ride of the Valkyries, Wotan's Farewell and Magic Fire Music, Forest Murmers, Siegfried's Rhine Journey and Siegfried's Death and Funeral March.
The arrangements are by the conductor Lorin Maazel [1930-2014], who was the first Jew in the post-war period to conduct at the Bayreuth Festival, Germany, a music event held each year at which performances of Wagner operas are presented.
With good sound, it's a recommended buy online for around £6.
© Peter Burt
August 2016