THOSE WERE THE DAYS With Harry Davidson and his Orchestra
Author : David Corbett (2013)
Publisher: YouCaxton Publications - ISBN 978-1-909644-12-0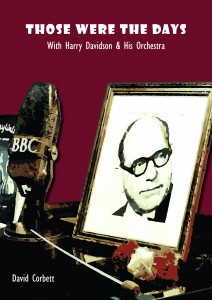 It is quite a few years since the publication of Brian Reynolds' book 'Music While You Work – An Era In Broadcasting'. This recounts the story of that eponymous BBC 'institution' – together with several associated programmes- from the time when live light music was a mainstay of the Corporation's output.
[That situation was very different from today's radio broadcasting scenario, with its personality presenters, interminable pop records, and a distinct 'sameness' - and lack of imagination- in its programming schedules].
Inspired and encouraged by Brian Reynolds, David Corbett has recently produced this handsome new volume, chronicling the fortunes of yet another BBC phenomenon that achieved a great deal of popularity for nearly half-a-century, viz :- programmes of Old Time Dance Music. These commenced in the dark days of WWII and continued until the last decade of the Twentieth Century.
One is immediately struck by the sheer size and scope (and indeed weight!) of this book. Within its glossy A4 – size covers are contained no less than 606 pages – inclusive of a comprehensive index.
It is an amazing mine of information about the original 'Those Were The Days' programme on the Home Service/Radio 4, (subsequently moved to Radio 2), together with its rival siblings, 'Take Your Partners', 'Time For Old Time' and finally 'Sequence Time' on the Light Programme/Radio2.
TWTD came about almost by accident. Its progenitors, Fred Hartley (then Head of Light Music at the BBC) and one of his producers, Douglas Lawrence, (who would eventually occupy the same post), had, on a number of occasions, suggested an Old Time Dance Music programme. The planners were not impressed –they didn't much like 'nostalgia programmes'! However, towards the end of 1943, a scheduled broadcast by the famous organist Reginald Foort had to be cancelled at short notice, (due to the non-availability of a suitable instrument), and to fill the gap, it was – albeit reluctantly - agreed that a hastily- arranged Old-Time programme could go on air. This would take place on the evening of Tuesday November 2nd; to be broadcast from London on the BBC Forces Programme and compered by the well-known sports commentator Raymond Glendenning.
It seems that Hartley was very keen to engage Harry Davidson to be in charge of the music, and the latter's orchestra, (which had been regularly appearing on 'Music While You Work'), was augmented by extra strings. The venue was the Methodist Mission Hall, Marylebone, with BBC secretaries recruited to take part in the dancing . The show's title, 'Those Were The Days', was 'borrowed' from Osbert Sitwell's book on manners ! The broadcast was a success, and following some further (intermittent) appearances, the programme was eventually accorded the status of a regular series in the schedules, this situation continuing until March 1971 !
David Corbett charts in considerable detail the career of Harry Davidson. He had started in the music profession at the age of fifteen, pounding away on the piano in a Croydon cinema and worked his way up, firstly as an organist and then as Orchestra Director, in various UK cinemas, before becoming MD of the prestigious Commodore Grand Orchestra in Hammersmith. This had a regular weekly broadcast slot on the pre-WWII BBC National Programme and was also relayed via the Empire Service to Australia and the Far East. When Davidson retired in 1966, he had taken part in more than two-thousand live broadcasts.
Later chapters concentrate on Harry Davidson's successors- Sidney Davey (his one-time pianist and deputy conductor) – Sydney Thompson, Sidney Bowman and finally Bryan Smith.
Here we have a real 'labour of love', which has been painstakingly researched by its author, who is an acknowledged authority on, and a passionate devotee of, his subject. He must have burned a good deal of 'midnight oil', (much of it, I suspect, at the BBC Archive at Caversham), to assemble such comprehensive programme information, together with listings of the personnel involved and the music performed.
Copiously illustrated, it describes how the character of that music changed over the years and how the popularity of Old Time Dancing developed and ultimately declined, eventually metamorphosing into modern Ballroom Dancing.
This magnificent book surely deserves a place on the shelves of all serious students of Radio Broadcasting, lovers of Light Music, and devotees of Old-Time Dancing.
? Tony Clayden- July 2014
The book is available from:
David Corbett, 51 Haygate Drive, Wellington, Telford, Shropshire TF1 2BZ
tel:01952 242907 Email: g-michael1@sky.com