CD REVIEW – JOHN PHILIP SOUSA - MUSIC FOR WIND BAND 15
Marches: Prince Charming; Across the Danube; Legionnaires; Yorktown Centenniel etc.
Desiree - Selections; Chris & the Wonderful Lamp - Electric Ballet (Act 2); Gliding Girl Tango.... & more
MARINE BAND OF THE ROYAL NETHERLANDS NAVY / KEITH BRION
NAXOS 8.559745 59'19"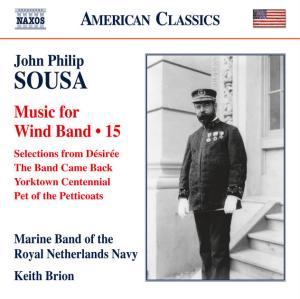 This long running series from NAXOS which started with Volume 1 back in early 2001 is now coming to a conclusion. It has been an ambitious project by the Sousa specialist Keith Brion to commit to disc all of Sousa's voluminous music for wind / military band and with this Volume 15 has now reached its pre-ultimate edition which like the final release is entrusted to the hands of the Marine Band of the Royal Netherlands Navy. This 50 odd strong ensemble was founded in August 1945 and was in fact the continuation of a similar pre-war band.
Should anyone still be under the illusion that Sousa could only compose music in march idiom there is plenty of evidence to the contrary here to disabuse them with Selections/Excerpts from his operettas 'Chris and the Wonderful Lamp' and 'Desiree' - both World Premiere recordings, 'Gliding Girl' tango and even extraordinarily the March Kings' arrangement of Chopin's Nocturne No. 11! Of marches there are plenty, ranging from the early 'Across the Danube' (1877) to 'Legionnaires' composed just two years before Sousa's death in 1932.
Production standards have reassumed their uniform excellent technical quality after a slight dip with Volumes 13 & 14 recorded by the RAF Central Band in what appeared to be a rather unsympathetic acoustic at RAF Northolt and this NAXOS disc timed to coincide with the 70th anniversary of the impressive band can be recommended to anyone with a taste for cheerful, bright and tuneful music
Roger Hyslop © January 2016