CD REVIEW: A SOUSA CELEBRATION
Royal Scottish National Orchestra / Kristjan Järvi
Chandos CHSA 5182 (68'26")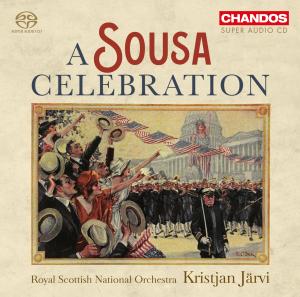 If, like me, the name John Philip Sousa (1854-1932) conjures up thoughts of marches played by military or brass bands, this new release will be something of an ear-opener for you as alongside the likes of The Washington Post, Semper Fidelis, The Liberty Bell, and The Stars and Stripes Forever there are waltzes, an operetta overture and galop, a reverie, and even a tango; some pieces reflecting Sousa's close association with the theatre in his younger years.
The longest item is the 12-minute suite Dwellers of the Western World that was wildly popular on the 1910/11 Sousa Band's 352-day-tour of the UK, South Africa, Australia, New Zealand, and North America when they travelled 47,000 miles and played 300 concerts.
Another two of the 19 tracks are the delightful Humoresque on 'Swanee' (Gershwin) and Humoresque on 'Look for the Silver Lining' (Kern).
The RSNO, playing under the third in line from the esteemed Estonian family of conductors, acquit themselves very well idiomatically. B flat cornet, cello, xylophone, and piccolo players are all credited in the comprehensive booklet notes.
Altogether this is a most interesting and entertaining collection enhanced by the Colchester-based recording company's usual Super Audio sound.
© Peter Burt 2017