CD REVIEW – SOMM CD 0153
GLAZUNOV: VIOLIN CONCERTO IN A MINOR
SIBELIUS: SIX HUMOREQUES FOR VIOLIN AND ORCHESTRA
DVORAK: VIOLIN CONCERTO IN A MINOR
Efi Christodoulou violin
Bournemouth Symphony Orchestra
John Carewe conductor
SOMM RECORDINGS (UK) SOMMCD 0153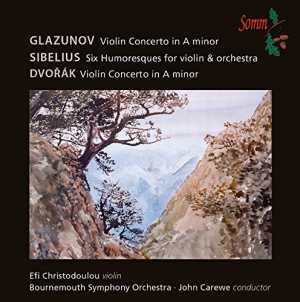 The 'big four' concertos – by Beethoven, Mendelssohn, Brahms and Bruch – have tended to dominate the World of the Violin Concerto, but there are very many other fine examples of the genre, ranging from the Baroque period of Bach and Vivaldi, via Mozart and Paganini, to Tchaikovsky, Sibelius and Shostakovich. The two compositions presented here are probably less well-known than some of their contemporaries, so this new CD is a welcome addition to the catalogue.
Alexander Glazunov completed his Violin Concerto, Op.82, in 1904, just before his 23-year tenure as Director of the St Petersburg Conservatory. The work is in three main sections, rather than the traditional three discrete movements. Superbly crafted and with a very demanding solo part, the concerto should be considered as one of its composer's most attractive works.
The Violin Concerto, Op.53, by Antonin Dvorak has tended to be rather overshadowed by its sibling concerto for Cello; there is also a very rarely-performed Piano Concerto. The work dates from 1879 and was dedicated to the great virtuoso Joseph Joachim, who gave the composer advice about the solo part. Joachim, however, seems to have been disappointed with the final result and sadly never gave it a public performance; this had to wait until 1883, when it was premiered in Prague. Full of wonderful melody, and superbly orchestrated, (as indeed are all of Dvorak's major symphonic compositions), this surely deserves to take its place amongst the very best within the canon of late nineteenth-century violin concertos.
Although the 1905 Violin Concerto by the Finnish Jean Sibelius has long been well-established in the repertoire, the Six Humoresques are, however, hardly known; this set of miniatures dates from twelve years after the concerto, and should be regarded as a 'lighter' part of the composer's output.
The soloist is the Greek-born Efi Christodoulou, who graduated with honours from the Athens National Conservatory, before continuing her studies at London's Guildhall School of Music.; she was a semi-finalist in BBC Radio's Young Musician Of The Year. Highly acclaimed as a performer, her playing has been likened to 'Menuhin or Oistrakh at their best'; The Strad magazine described her as 'a powerful violinist, demonstrating a high level of technical achievement'. She is ably supported on these excellent recordings by the Bournemouth Symphony Orchestra under John Carewe.
Highly recommended – congratulations are due to the enterprising SOMM label for this enjoyable new release.
Tony Clayden ? 2015