CD REVIEW – SAINT-SAENS SYMPHONIES
(1) Symphonies 1 & 2 – Phaeton – Symphonic Poem Op 39 NAXOS 8.573138 66'
(2) Symphony in A major – Symphony No.3 in C minor (Organ) Op 78
Le Rouet d'Omphale Op 31 NAXOS 8.573139 72'
Malmo Symphony Orchestre / Marc Soustrot with Carl Adam Landström (Organ)
Many years ago, back in the 1970's, the distinguished French conductor Jean Martinon recorded all five of the Saint-Saens symphonics for EMI so this decision by Naxos to revisit this engaging music is timely and to be warmly welcomed.
The first and second volumes – there is a third to come (see below) containing the 'Urbs Roma' Symphony - range from the early Symphony in A major composed when Saint-Saens was little more than a youth of 15 and where the influence of Schubert and Mendelssohn are clearly in evidence, through the first numbered Symphony which possesses a winsome scherzo full of Gallic charm to the grandiose majestic sounds of the Organ Symphony.
Technical standards are high here with full, vivid recording and splendid stylish playing from the Malmo Symphony under the French conductor Marc Soustrot.
None of the music, full of charm and attractive melodic ideas make any great demands on the 'little grey cells' and can be unreservedly recommended.
Roger Hyslop
(3) Symphony in F major "Urbs Roma" - La Jeunesse d'Hercule Op 50 - Danse macabre OP 40
Marika Fältskogh (violin) / Malmo Symphony Orchestra / Marc Soustrot NAXOS 8.573140 67' 25"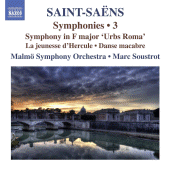 This third release from Naxos completes their survey embracing all five Symphonies of Saint Saens. "Urbs Roma" was a prize-winning entry to a competition organised by the Bordeaux Sociétè Ste. Cécile and is a substantial and quite serious work weighing in at some 42 minutes - his longest piece in the symphonic mould. Sadly it remained unpublished in the composer's lifetime and there have been very few commercial recordings apart from Jean Martinon's pioneering two EMI CD set of the complete symphonies recorded as far back as the 1970s - CZS762643/2.
Two fill-ups are offered - the substantial symphonic poem "La Jeunesse d'Hercule" plus one of the composer's most popular works, the spine tingling "Danse macabre" with some fine violin work by Marika Fältskogh.
An excellent conclusion to a fascinating series and anyone who has invested in the previous two discs needn't hesitate.
Roger Hyslop