CD REVIEW – RALPH VAUGHAN WILLIAMS:
A LONDON SYMPHONY
BBC Symphony Orchestra
and Royal College of Music Brass Band
conducted by Martyn Brabbins.
Hyperion CDA 68190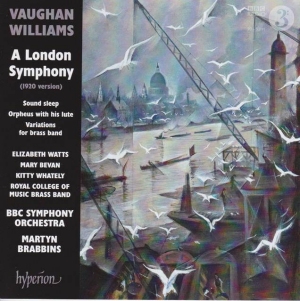 It is believed that of his nine completed symphonies, Vaughan Williams liked this, the No. 2, best. It is certainly the most tuneful and accessible, with harmonies more akin to light music than the other eight, thoroughly enjoyable though they all are.
It begins with the sonorous quiet links to Big Ben and then evolves into a descriptive piece of pre-WW1 London, alternating between its noisy clamour and quiescence. Revised after the dreadful Great War ended (during which VW became an ambulance driver), this is the first published version dating from 1920.
Bonus tracks include the excellent Variations composed for the 1957 brass band championships, and two Edwardian songs, Sound Sleep and Orpheus with his lute.
Highly recommended.
Edmund Whitehouse © 2017