CD REVIEW – PROKOFIEV
Romeo and Juliet
Baltimore Symphony Orchestra - Marin Alsop
Naxos 8.573534 (75.03 & 69.11)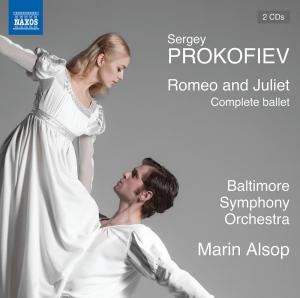 Sergey Prokofiev is a widely admired Russian composer who died in 1953, aged only 62, on the same day as Joseph Stalin. For artistic reasons he went to live in the United States in 1918, then Germany and then Paris. Returning to Russia 15 years later, he found himself distrusted as a westernised "formalist" and skilfully adapted his style to more openly tuneful compositions – like Peter and the Wolf and Lieutenant Kijé – with his masterwork being the wonderful ballet music on this double album budget release. Finished the year I was born, this is the revised 1939 version.
The music is instantaneously appealing with the BSO on top form under the baton of their inspirational musical director, Marin Alsop, who was the first woman to hold that post with any major American orchestra, and is now rated among the world's finest conductors. Readers may recall her presiding over the BBC's Last Night of the Proms in 2013 (another female first) and again in 2015.
There are 25 tuneful tracks, fairly reflecting the romance and tragedy of Shakespeare's story, with one of the longest at 5½ minutes being Dance of the Knights (Montagues and Capulets), which is used as the signature tune for the BBC TV programme The Apprentice. Dance with Mandolins, Public Merrymaking, Finale (Act II), and Juliet's Funeral are among other standout pieces.
The sound, produced and engineered by Tim Handley, is probably the best so far for this work and Daniel Jaffé's booklet notes, especially the synopsis, are spot-on. Don't hesitate to buy what is a sheer delight from beginning to end !
Peter Burt © 2018