CD REVIEW – OSLO PHILHARMONIC + VASILY PETRENKO
Nikolay Rimsky-Korsakov : Capriccio Espagnol,
Russian Easter Festival Overture, Scheherazade
LAWQ Classics LWC1198 (74:55)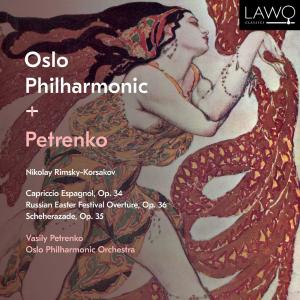 With its lushness and folk-inspired vitality, this colourful music by Nikolay Rimsky-Korsakov (1844-1908) may well appeal to light music enthusiasts. The well-filled album marks the end of Vasily Petrenko's highly successful seven-year tenure as principal conductor of the Oslo Philharmonic.
Born 1976 in Leningrad he is recognised as one of the most acclaimed recording artists alive and has won abundant accolades for his CDs of Russian music. His work at the Royal Liverpool Philharmonic, the oldest orchestra in the UK, has also been transformative. He is a communicator par excellence and is set to become MD of the Royal Philharmonic Orchestra at the beginning of the 2021/22 season. Fortunate RPO!
The trio of works are the Russian composer's best-loved. The first takes themes from the folk music of the Spanish countryside. The second sets out to capture the "transition from the gloomy and mysterious evening of Passion Saturday to the unbridled pagan-religious merrymaking on Easter Sunday morning" as experienced in a Russian cathedral. The third is inspired by the story of the Arabian 1001 Nights, very popular in Russia at the time.
The orchestral playing – a tribute to Petrenko's impact – is brilliant both collectively and individually, with the concertmaster Elise Båtnes worthy of special mention. The sound recording from the Norwegian label is first-rate.
I would like to think that anyone trying this album will not fail to enjoy it.
© Peter Burt 2020