CD REVIEW – REVOICED
Corvus Consort/Ferio Saxophone Quartet
Freddie Cowley
Chandos CHAN 20260 [67:28]
'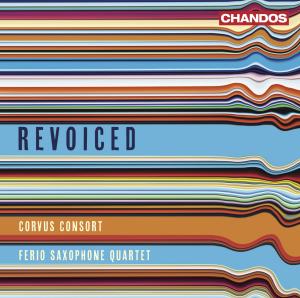 Not even your reviewer can claim this to be light music, but it was sent in the hope that it might be of interest to some of our readers. The fascinating thing about the release is that it is a mix of baroque, Renaissance and contemporary melody from a singing group accompanied by a saxophone quartet, said to be the closest instrument to the human voice.
Composers range from J S Bach (d.1750), J M Bach (d.1694), H Schütz (d.1672), G Gabrieli (d.1612), A Gabrieli (d.1585) and O de Lassus (d.1594) to Owain Park (b.1993), Roderick Williams (b.1965), Sarah Rimkus (b.1990) and James Macmillan (b.1959). Among the 17 tracks (four featuring individual saxophonists) – all première recordings – there are a few that may sound familiar if not recognized from their titles. The conductor and radio presenter/reviewer Jeremy Summerly provides some helpful programme notes.
The Corvus Consort comprises four soprano voices, and three each tenor, alto and bass. They are all young singers in the early stages of their professional careers. Their director, who also arranges or transcribes most of the pieces here, Freddie Crowley graduated in 2018 from Merton College, Oxford, where he read Music as a choral scholar. While at university, he was also a member of a jazz a cappella group The Oxford Gargoyles and made frequent musical theatre appearances.
The Ferio Saxophone Quartet, founded in 2014, is one of the top ensembles of its kind among the new generation of British artists and regularly meets with high enthusiasm from both audiences and critics.
The two excellent groups blend together very well and make for an enjoyable and at times uplifting listen. Although, obviously, not an album for everyone but well worth investigating if you are at all attracted to choral music – especially that with a twist.
© Peter Burt 2022