CD REVIEW – ROYAL AIR FORCE 100TH ANNIVERSARY
Various Performers
Chandos 10973(2) x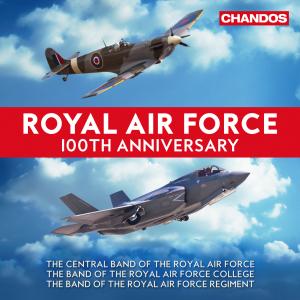 For those who love band music of the military variety this is a fine buy, as there are two albums – each of around 60 minutes duration – for about the price of one.
The featured forces are The Central Band of the Royal Air Force (as a National Serviceman I marched behind them with fixed bayonet when RAF Wyton received the Freedom of Huntingdon), The Band of the Royal Air Force College and The Band of the Royal Air Force Regiment. There are also three tracks from the famed Royal Air Force Squadronaires – Come Fly with Me, South Rampart Street, and Sing, Sing, Sing – and 'Oh Johnny', an Andrews Sisters' medley, from the Royal Air Force Swing Wing.
The 26 full band pieces are nicely varied and alongside the expected marches, beginning with the RAF March Past and finishing with The Dambusters, include Sir William Walton's Spitfire Prelude and Battle of Britain Suite, three film themes from the pen of the late, great Ron Goodwin (a light music hero of mine who I once had the pleasure of meeting), John Martindale's To Lusher with Love, a 'Queen Medley' arranged by Stuart Morley, the lovely Ladies in Lavender by Nigel Hess, and 'Songs that Saw Us Through': a nostalgic nine minutes from WWII with In the Mood; A Nightingale Sang in Berkeley Square; We're Going to Hang out the Washing on the Siegfried Line; Kiss Me Goodnight, Sergeant-Major; Run Rabbit Run and I'll Be Seeing You. Regrettably, the rather good vocalists are not credited.
The usual excellent Chandos recorded sound pertains throughout.
Peter Burt © 2017